27 August 2009 Edition
'Still Imprisoned?' project provides support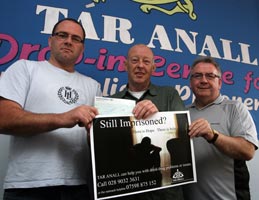 Ballymurphy Republican Ex-Prisoners presented a cheque for £450 for the "Still Imprisoned?" project to Joe Austin on Tuesday 11 August. The presentation took place in Tar Anall.
Joe Austin told An Phoblacht that the "Still Imprisoned?" project came about because many republicans suffer as a result of the trauma of being involved directly or indirectly in the conflict:  
"These may include alcoholism, drug dependency, financial management problems, depression and anxiety. The "Still Imprisoned?" project is there to help. It provides a 24-hour help line and personal support within a short time, and is run entirely by republicans. The project has three tiers of support – those with first hand experience of traumas, another tier who raise funds and provide financial support, and a third tier of drivers and 'befrienders'.
"The greatest difficulty faced by anyone dealing with any trauma is isolation. They feel lonely and distanced from their comrades. The 'befrienders' job is to work with the project and reach out to their comrades. It is NOT to act as counsellors. It is just to call in, have a cup of tea, a yarn. It is to let our people know that they are not alone. For the duration of the conflict, many of our people lived their lives engulfed in a necessary silence. It is almost impossible now for them to engage with any statutory bodies that they feel may not understand them, or their background. That is why we need this project."
Eibhlín Glenholmes, the Tar Anall representative responsible for the programme said:
"I would like to acknowledge the tremendous work  being done by Joe Austin and the small group of people who have been at the coalface of this project. But it was clear that a few people were fulfilling an exhausting and demanding role with little or no support. I knew coming into this project that is was necessary to appeal to the republican ex-prisoners and the wider republican community to help those who have given so much to us. These people need and deserve the support of their comrades and their community.
"There is a deep and abiding sense of comradeship among our people, as evidenced by the contribution of the Ballymurphy Republican ex-prisoners and the Felons Association in response to the appeal for financial support. We are now appealing to the same people to give their time, whatever they can spare, to the project. The "Still Imprisoned?" project is a direct response to the needs of republican ex-prisoners and their families. There is a total commitment of confidentiality and respect.
"We are confident that once people know that there are comrades out there who need their support and help, then they will do what our people always do. They will come forward to help their comrades."
• Anyone wishing to know more, or to help in anyway, please contact: Eibhlín Glenholmes at Tar Anall 90 32 3631.
The 24-hour help line number is 07598875152.