20 August 2009 Edition
More than a game By Gael Gan Náire

Bring back the Vigilance Committee
I was surprised that the Jackeen showed his face again after the whipping the Kerry boys gave that shower two weeks ago. Now he's off again gallivanting. Off to see bloody Celtic and Arsenal if I know his nabs at all. Probably thrown his dirty beer stained smelly Jackeen jersey into the skip and wearing green hoops again. One of those gobdaws who thinks that Glasgow is in Ireland. Mother of God, did they ever open a geography book at all?
I happened to fall in with some of them Celtic boys, not Jackeens mind or I'd have missed my wallet and my pipe at some stage you may be damn sure, after an Ard Fheis. Fine manly Ulster lads so they were and we were talking about football – they would know damn all about hurling naturally – and national ideals and principles. But I have to say I was disappointed. Disappointed because when we went to the function wasn't there a band, mar dhea!, and interspersed with national songs they were singing this bloody rubbish about a Scottish football team. Grandad was a Celtic Man! He was in his arse I'd say.
Now do not get me wrong. I have nothing against soccer. Indeed as a young man when I was on the Vigilance Committee I was sometimes in the Market Field or in Flower Lodge or even among them blackguards up in Milltown watching out for lads who might have been watching or even, God forbid, playing while kicking football or hurling at the same time. And I have to say there was good sport at times especially when the country boys would beat the Jackeens.
And there were good honest men, maybe not the brightest and perhaps not men who put their shoulder to the wheel in the national movement, who were there and they cheering on Cork Hibernians after a feed of Beamish, they being south city men. And good men no doubt they were too, possibly Labour men, and I often thought to myself if only they had been given a firm grasp of national ideals and principles instead of been handed the Hotspur or the Eagle to read instead of Kickham and Brian na Banban.
Now there might have been an excuse for them, just as there is for women who watch that muck and smut that does be in the soap operas, because they don't know any better. But surely to God Almighty someone in the National Movement ought to take the likes of them young Ulster lads to one side, and as I said they were fine lads who I am sure would not be found wanting if the Gap of Danger ever opens up again before the Gael in the future, and say to them 'For Jaysus sake lads, Glasgow is in bloody Scotland. Will you get that through your heads.' And have an end to that nonsense. Kick soccer if you must, and I wouldn't necessarily recommend it as it is an inferior sport but I am a tolerant man, but for the love of God don't be letting yourselves down.



And another thing if any lad turns up in a ground of the Association wearing one of them jerseys, and it is not an uncommon sight and again I have to say and I don't like saying it is Ulster lads we are talking about, there should be the likes of the old Vigilance Committee to stand at the gate and say 'Go way to hell out of that mister and get a red and white jersey and stop acting the gawm.'
And do you know in saying that I was never a man to hurl from the ditch. If I ever thought that some thing was worth doing by someone else then damn it to hell, don't leave it to the other lad, do it yourself. Which is why I am going to ask the good editor here to allow me to make this proposal: We will re-establish the Vigilance Committees. Now the Ban is gone, unfortunately if you ask me but I suppose we have to accept it at this stage, we can still educate the young lads. Mól an Oige agus Tiocfaidh Siad.
I am looking for good men to join me at Gill's pub on Sunday before the football and if there is enough of us we will disperse ourselves around the stadium at all the barriers and we will tackle lads wearing Celtic jerseys. In fact if the movement saw fit maybe they could give us a few pounds to buy Tyrone jerseys to replace the Celtic jerseys we get lads to hand over to the Committee. It will be good honest national work.
And one of ye bring the Christian Brothers Geography Textbook with a map of Scotland in it and showing its geographical location in relation to Ireland. And no-one turn up the worse for drink, we had enough of that in the Volunteers. Plenty of time for that later. 

An Phoblacht Magazine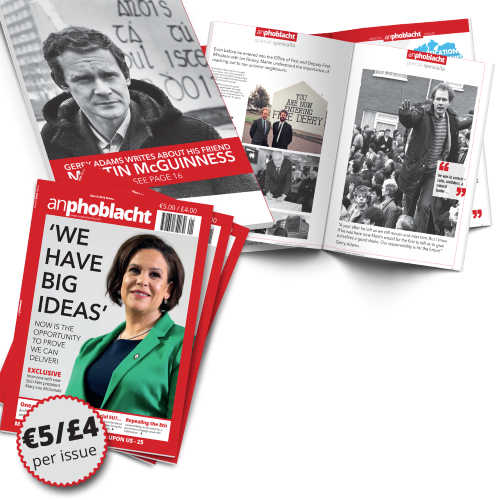 AN PHOBLACHT MAGAZINE:
The first edition of this new magazine will feature a 10 page special on the life and legacy of our leader Martin McGuinness to mark the first anniversary of his untimely passing.
It will include a personal reminiscence by Gerry Adams and contributions from the McGuinness family.
There will also be an exclusive interview with our new Uachtarán Mary Lou McDonald.
test