20 August 2009 Edition
'HSE North East hospital plan a shambles' - Ó Caoláin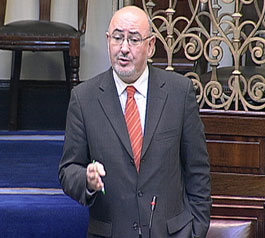 Commenting on the admission by the HSE that the planned regional hospital for the North East will not go ahead in the foreseeble future, Sinn Féin Health spokesperson Caoimhghín Ó Caoláin TD said the admissioin exposed the "shambles of hospital configuration in the region", coming as it did just a month after the transfer of all acute medical services from Monaghan to Cavan General Hospital which is now under severe pressure as a result.
The Sinn Féin Dáil leader and Cavan-Monaghan TD said:
"The HSE has now admitted that the planned regional 'super-hospital' for the North East will not go ahead in the foreseeable future. They speak of its inclusion in the next National Development Plan, whenever that may be.
"This admission exposes the shambles of the HSE's configuration of hospital services in this region. Services have been centralised in Cavan General Hospital and the Lourdes Hospital in Drogheda as part of a supposed overall plan leading ultimately to the provision of most acute services in the regional hospital, now a white elephant.
"The reality on the ground is what has been experienced in the past month since the axing of acute services at Monaghan General Hospital and their transfer to Cavan. Cavan General Hospital is now under severe pressure. I am informed by the Irish Nurses Organisation that patients and staff are under greater strain as the shortage of beds has become severe. There are not enough beds to accommodate patients admitted from Cavan's Medical Assessment Unit and from A&E. Beds in the surgical ward are being allocated to medical patients. Surgery is thus being affected, resulting in cancellation of procedures and operations.
"This is all as predicted by those of us who appealed to the HSE, Health Minister Harney and the Taoiseach not to axe services at Monaghan. I have no doubt that the situation will worsen as the year progresses and as the autumn and winter set in. And this is without taking into account the possible onset of swine flu and of more expected health service cuts in the December budget."