13 August 2009 Edition
More than a game BY MATT TREACY

Kilkenny and the agony
ONE has to be struck by the irony of people who attack referees for not coming down heavy on Kilkenny for allegedly 'playing on the edge' but who send lads out to try and intimidate and bully their opponents before the ball is even thrown in. Fair enough, if that's the way you want it, but at least have the good grace to take your medicine when it doesn't work out.
Waterford threw everything they had at the Cats and redeemed their honour from the final last September but even the gift of a fortuitous goal from an Eoin Kelly '65' was not enough to see them through. Kilkenny weathered the early storm which saw them fall behind and in truth never looked like losing even when two more goals came in the second half. 
In the process they proved once again that no team has plumbed their depths. Several times this year – against Tipperary in the league final, against Galway and Dublin in Leinster, and again last Sunday – they have had the kitchen sink thrown at them and in all those games have been under pressure with the tantalising possibility that their opponents might have taken them, if they had gotten a goal at a crucial time or if several other possibilities had transpired – but the fact is that they didn't.


KILKENNY, in all instances, have risen to the challenge and won, and in truth with some degree of comfort, it has to be said. They may not be pulverising teams in the manner in which they did in 2007 and 2008 but they are still putting them away. The difference this year is that they seem to just do enough. Instead of absolutely annihilating teams, as was their wont, they are doing enough.
That is not to say that they are toying with teams, as cats do to our rodent friends. It is more a case of controlled power and also reflects the fact that personnel-wise and otherwise they are not perhaps as formidable as they were this time last year. As has happened in the past to teams that raised the bar, like Clare and Wexford in the mid 1990s and Cork a few years later, Kilkenny are now being challenged by others who are attempting to emulate their approach.
Davy Fitz has suggested that this was reflected in the physical challenge put to the Cats by Galway, Dublin and his own side and that has certainly been a factor. Higher fitness levels and higher levels of legitimate aggression, apart from one or two exceptions as I hinted earlier, were certainly evident but that is not enough. 
Without doubt, Kilkenny can be unsettled and made work harder by teams who attempt to match them physically and as they age that may be the factor that eventually unseats them but one suspects not this year. And the main reason for that is that, whatever about the physical and even psychological raising of the stakes, no team can match them hurling-wise. An aggressive, fit, riled-up football team can sometimes, indeed regularly do, beat a better team. That rarely if ever happens in top-class hurling because of the skilled natured of the game and no one matches the Cats on that plain.


IF PROOF were needed of that, several incidents from last Sunday stand out when huge Waterford pressure was broken down by the Kilkenny backs and the ball sent directly in to the forwards with Shefflin the clear target man.
Henry was in superb form and has rarely hurled with such confidence and accuracy in a match of such importance. Another year of that and there will have to be a reassessment of the old wisdom on who was 'The Greatest of Them All'.
If it comes to scoring, Henry has no challengers. The record book speaks for itself and there are few of us who can judge him on any other basis as compared to Ring or anyone who hurled before most of us were born. The few people I know who saw Ring in his prime are evenly divided now and the factor that tipped the balance in the Corkman's favour seems to have been a kind of magical effect. Maybe DJ had that quality more than Henry but we won't quibble.
**
WHO gets to meet the Cats on 6 September will be decided on Sunday when Tipperary take on Limerick. Tipp are strong favourites, having won Munster, and are regarded as the team most capable of putting it up to the Cats, mainly on the basis of their performance in the league final when it took extra time for Kilkenny to win.
Limerick, on the other hand, have been beaten by Waterford after a replay, and beaten Wexford, Laois and Dublin, a run in which they unfortunately saved their best performance to date for the quarter-final. It is a line of form that some regard as markedly inferior to Tipp's and few give them any chance on Sunday, a fact indicated by the offer of 4/1 from most bookies. Indeed, you will probably get better if you shop around, especially in Thurles!
Now I know my powers of prediction have sometimes been called into question but I am going to go for Limerick here (is that Justin McCarthy's resignation letter I hear being tapped out on a computer down south?). 
On what basis, I hear you say? On the basis that Limerick have had a very solid year in which McCarthy has gradually put some sort of shape on what he considers to be his best team. On form over the last ten years, Limerick have only beaten Tipperary once, after the exciting trilogy two years ago.
Tipperary, however, have of late been a bit like Dublin and Mayo footballers when reaching the business end of the season, often with high expectations. Since their last win in 2001, they have been beaten in three semi-finals, three quarter-finals and failed to reach the quarter-finals in 2004. Back Limerick to prolong the agony.

An Phoblacht Magazine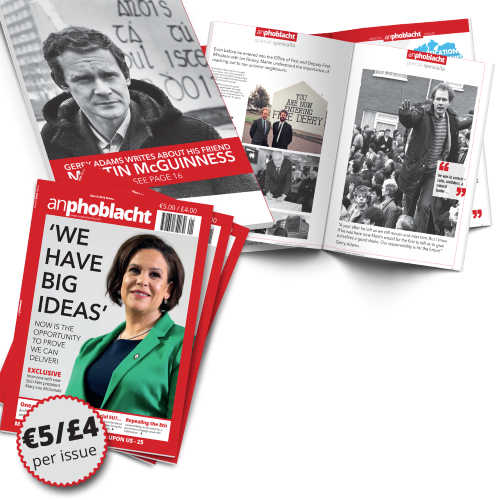 AN PHOBLACHT MAGAZINE:
The first edition of this new magazine will feature a 10 page special on the life and legacy of our leader Martin McGuinness to mark the first anniversary of his untimely passing.
It will include a personal reminiscence by Gerry Adams and contributions from the McGuinness family.
There will also be an exclusive interview with our new Uachtarán Mary Lou McDonald.
test