13 August 2009 Edition
Council destroys Terence Mac Swiney mural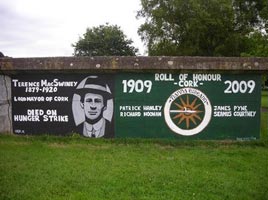 CORK CITY COUNCIL bureaucrats have intentionally destroyed a tasteful mural tribute to the city's hunger strike hero and former TD, Lord Mayor Terence Mac Swiney, by painting over it – and bizarrely leaving untouched vandalised portions of the wall it was on!
Terence Mac Swiney died after 76 days on hunger strike in Brixton Prison after being arrested in Cork having been found in possession of a cypher key.
The mural includes the Roll of Honour of Cork members of Fianna Éireann killed between 1917 and 1924.
In what ÓSF described as "a shocking display of disrespect", the murals that had been painted on a derelict building in the Lee Fields were cited by the Recreation, Amenity and Culture Department as "defacement" under the Litter Pollution Act.
Despite the wall having previously been covered by graffiti, no effort was ever made to refurbish it until the murals were painted. The vandalised portions of the wall remained untouched by the "renovation works".
Sinn Féin Councillor Jonathan O' Brien said:
"I find it incredible that the council has taken this action.
"This was an attempt by local youths to enhance the area through the celebration of those who made the greatest sacrifice for the people of Cork and this country. To say that it amounts to defacement beggars belief."