6 August 2009 Edition
Dramatic tributes to Ballymurphy young republicans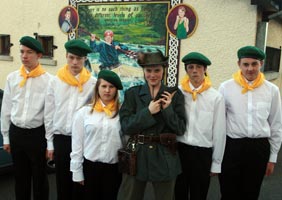 A PLAY about the lives of 10 young republicans from the greater Ballymurphy area who died during the course of the conflict will on at the West Belfast Féile.
The Young Guard of Erin has been written by west Belfast ex-prisoner Kieran Magee and is set in the fictional school of Tirna nÓg High.
The play revolves around a class of eight young Fians and two gCailiní girls who lost their lives during the conflict in the Ballymurphy area, and each member of the class then role-plays how they died.
The young republican activists of the Ballymurphy area bore a heavy price for their resistance to British occupation. One comparison is that eight Fians from the area during this phase of the conflict and eight Fians died during the whole Easter Rising of 1916 against British rule.
The actors and actresses, aged from 12 to17, were recruited from an advert in the local paper and they have been rehearsing for months for the showings of the play which will take place in Gort na Mona GAA club this Friday (7 August) and the Sliabh Dubh bar on Saturday (8 August) Performance begins at 8pm.
Admission is £5 and tickets can be purchased in Culturlann, the Art Shop on the Falls Road or in the Feile Office on the Falls Road.

FIANNA PLAQUE
Also on Saturday 8 August, a plaque commemorating the 100th anniversary of the foundation of Fianna Éireann by Countess Markievicz, and which is dedicated to the young republican activists from the area who lost their lives, will be unveiled at 1pm at the corner of Springhill Avenue and Springhill Drive.
Everyone is welcome to attend the event and remember with pride the young republicans of the greater Ballymurphy area.
PLAY: Scene with British soldiers making arrests