6 August 2009 Edition
Kevin Lynch Commemoration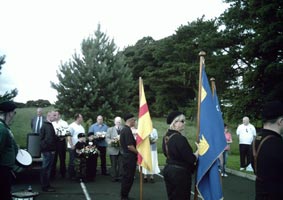 THE annual Volunteer Kevin Lynch commemoration took place on Sunday 2 August in Dungiven. A large crowd gathered to commemorate the 28th anniversary of Kevin Lynch who died on hunger strike in 1981 along with his nine comrades in Long Kesh.
Sinn Féin Mayor for Limavady Cathal Ó hOisín chaired the proceedings. A decade of the Rosary was was delivered by Kevin's brother, Hal Lynch. Wreaths were laid on the grave of Kevin from the Lynch family, East Derry Sinn Féin. the Republican Movement, the Kevin Lynch Hurling Club, The Kevin Lynch Memorial Flute Band and the IRSP.
The main oration was given by Mayor of Derry Paul Fleming who spoke of being "here today to remember Kevin whose death on hunger strike still resonates deeply within ourselves as individuals, as a community and – most particularly – within the Lynch family whose courage, dignity, and strength has never diminished".
Paul told the crowd:
"It is not just here in Dungiven where Kevin is remembered.   On Sunday 23 May, a fitting tribute to Kevin was also unveiled in Park village where he was born and I would like to take this opportunity to commend everyone who was involved in the erection of this lasting monument to his memory."
RESPONSIBILITY
Paul reminded republicans that the new society that Kevin Lynch and the Hunger Strikers fought and died for has yet to be realised.
"As Irish republicans we remember Kevin and his comrades but – as Irish republicans – we must do more than remember. We also have a responsibility to continue on with the work of securing our political objectives of British disengagement, national reunification and the creation of a new Ireland of equals.
"We are all part of a dynamic movement which has faced down the worst excesses of British militarism, unionist bigotry and counter-revolution. And we are still moving forward.
"Kevin Lynch lived his life in struggle. Kevin Lynch died in struggle. His struggle is our struggle. And our struggle goes on."
After the commemoration, a short parade was held through the town of Dungiven by republican memorial flute bands from Counties Derry and Antrim.