6 August 2009 Edition
More than a game BY MATT TREACY

Guinea pigs in blue jerseys
Well I was right about one thing last week, not to be optimistic! But totally wrong about the game being fascinating, other than it having maybe the same fascination as for some deviants who enjoy watching cats torture mice. Anyway I had left at half time to go to see a film about talking guinea pigs but myself and Ciara even missed that although Ciara suggested that maybe the guinea pigs were in Croke Park wearing blue jerseys. They do seem to be smart guinea pigs however.
I had actually promised myself this time last year following the abject surrender to Tyrone that I would never go to see this Dublin football team again but of course habits of a lifetime are hard to break and there is the social thing, if you can believe it, of standing around Parnell Park in the depths of winter watching O'Byrne Cup matches. But this time it is a promise I intend to keep. If they can't be bothered putting some pride into the jersey then I can't be bothered going to watch them make a show of themselves.
Sunday sees the first of the hurling semi finals with a repeat of last year's final between Kilkenny and Waterford. The Cats of course won that with a modicum of ease, a hammering of such magnitude that many thought that Waterford would find it difficult to recover.
But recover they have and while they are adjudged by some to have been somewhat fortunate in beating Galway two weeks ago they have been reasonably consistent all year and have been the only team to beat Kilkenny since then, in a league game at Walsh Park. That will count for little on Sunday and I doubt that Brian Cody spends sleepless nights worrying over it but it did represent an important step in Waterford's road to recovery after what must surely have been a debilitating experience last September.
What made last year harder to take for Waterford was that they had spent so long trying to get to a final and had endured so many disappointments along the way. It was also felt by some that the team that lost to Kilkenny contained many players who would be unlikely to play again this year.
Remarkably perhaps most of the big names have stayed and were prominent in the quarter final defeat of Galway. John Mullane, his confidence boosted by his performances with Mount Sion in the club championship, is arguably playing his best hurling of his life and it was that other icon Dan Shanahan who scored the crucial goal two weeks ago in Thurles.


So it would certainly appear that the obituaries were premature and a lot of the credit for that must go to Davy Fitzgerald who helped to pick them up off the floor following the mauling by the Cats and restore pride in the jersey. Strangely they don't play like a Davy Fitz team, if that makes any sense. They are not imbued with the same mania, or so it would appear and indeed look like a less flamboyant side than two or three years ago. 
No longer the crowd pleasers perhaps although the manner in which they snatched victory over Galway was classic Waterford. A three-minute spell to assure the viewers that the old magic was still there beneath the new, measured appearance.
What is noticeable too, to an outsider perhaps, is that Waterford seem to have lost a lot of the sympathy and support which they once enjoyed among neutrals. Much of that has undoubtedly to do with the manner in which the players ousted Justin McCarthy and above all what was perceived to have been the calculated slight towards him from Dan Shanahan and the apparent lack of courtesy shown to him.
Waterford possibly also did themselves few favours by the way in which they attempted to 'unsettle' Kilkenny before and just after the throw in last September. That was not a wise plan and possibly backfired and riled up Kilkenny to the extent that they never took their foot off the pedal even when the game was well and truly over, which was after 15 minutes truth be told.
Waterford will however have considerable support this weekend as most people would like to see some team put it up to Kilkenny. Hopefully they will improve on their performance of last September. Pride alone should dictate that but it is difficult to see them winning.

An Phoblacht Magazine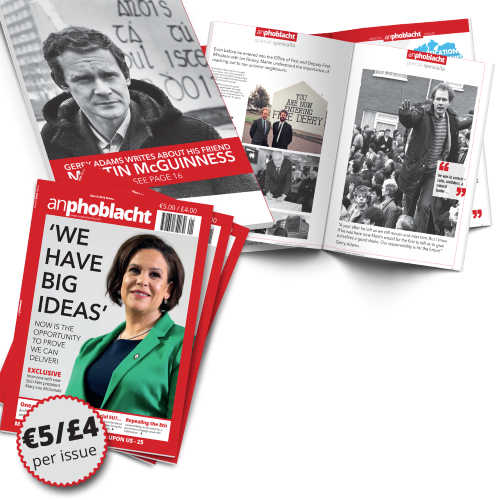 AN PHOBLACHT MAGAZINE:
The first edition of this new magazine will feature a 10 page special on the life and legacy of our leader Martin McGuinness to mark the first anniversary of his untimely passing.
It will include a personal reminiscence by Gerry Adams and contributions from the McGuinness family.
There will also be an exclusive interview with our new Uachtarán Mary Lou McDonald.
test