6 August 2009 Edition
This news feature is funded by the European United Left/Nordic Green Left (GUE/NGL)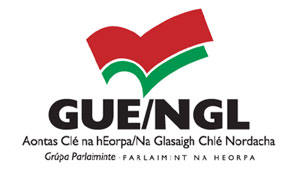 How the EU Parliament works
Committees
In order to prepare work for plenary sessions of the parliament, MEPs work in a number of specialised committees.
The parliamentary committees meet once or twice a month in Brussels. Their debates are held in public.
The committees draw up, amend and adopt legislative and non-legislative reports.
They consider Commission and Council proposals and, where necessary, draw up reports to be presented to the plenary.
Bairbre de Brún is a full member of the Committee on the Environment, Public Health and Food Safety and the Committee on Petitions. She is also a substitute member of the Committee on Regional Development.

Committee on the Environment, Public Health and Food Safety (ENVI)
The EU has many competencies in relation to environmental issues. Many of Ireland's policies on waste management, chemicals, air and soil quality, etc, must conform to standards set at EU level. Given the poor record of every Irish government on environmental issues, it is generally accepted that setting standards at EU level has forced the Irish government to improve its environmental policy-making.
Another important aspect of the committee's work is the impact which environmental decisions have on agriculture.
The committee is chaired by German social democrat Jo Leinen. Formerly chair of the ultra-federalist Constitutional Affairs Committee, Leinen is best known in Ireland for his dismissal of the Irish 'No' vote on the Lisbon Treaty, saying that Ireland risks being isolated and becoming a "second class" nation.

Committee on Petitions
The job of the Petitions Committee is to assess petitions that citizens of any member state lodge on any issue related to the EU or EU law. The committee analyses each petition and if it deems the petition admissible it can launch a number of actions such as visiting the area of the citizen or inviting the citizen to the parliament to outline their case.
The committee is chaired by Erminia Mazzoni, from Silvio Berlusconi's People of Freedom party in Italy.

Committee on Regional Development
The European Union funds regional development programmes through the structural funds programmes. From 2007-2013 there are three of these programmes: the EU Cohesion Fund, the European Regional Development Fund and the European Social Fund. The current funds run until 2013, so this committee will be important in setting the priorities for the funds, which we would like to be much more focussed on social and environmental development than they are at present.
The committee also deals with the Peace programme for the Six Counties and the border counties.
The committee is chaired by Danuta Hübner from the Polish Civic Platform. Hübner is former EU Commissioner for Regional Development and proved herself to be sensitive to issues surrounding the Peace Process and constructive in terms of promoting EU engagement in it.


Plenary Session
The plenary meets 12 times a year in Strasbourg as well as several times a year in Brussels. This is the real heart of the European Parliament, where it formally votes on its position on legislation. On a number of occasions the parliament (under pressure from progressive forces) has managed to throw out Commission proposals, for example on the proposed liberalisation of port services and on limiting electronic surveillance of people in the EU.
However, the shift to the Right in the new Parliament will make it more difficult than ever to prevent a drift towards liberalisation and deregulation and to protect and defend the rights and interests of workers, consumers, citizens and communities.

President of the European Parliament
The presidency of the Parliament is usually shared in a deal between the EPP (European People's Party) and PES (Party of European Socialists), for example.
The main political groups agreed to support Jerzy Buzek, from the Polish Civic Platform. Not wanting to support this cozy consensus, the GUE/NGL group put forward an alternative candidate, Eva-Britt Svensson, the Swedish Left Party MEP who recently obtained the European Parliament's backing for the UNIFEM campaign against violence against women.
Svensson, a feminist and environmental activist as well as a socialist, stood for an EU that "truly prioritises human needs rather than the needs of the market". She also stood for non-discrimination and social security for all, a new global deal on climate change, fair and responsible international trade, gender equality, ending poverty and social exclusion, strengthening fundamental rights, protecting migrants' rights and keeping public services in public ownership.
Despite the fact that GUE/NGL has only 35 MEPs, Svensson, won a creditable 89 votes out of a total of 644 cast. Most 'green' and 'socialist' MEPs supported the Polish conservative. If any Irish MEPs outside the GUE/NGL voted for her, they're not saying.
GUE/NGL lead the way in representation for women MEPs
In support of the European Women's Lobby 50:50 campaign, GUE/NGL has appointed Eva-Britt Svensson as its only chairperson in the upcoming parliament. Svensson is also one of GUE/NGL's six vice-presidents. Kartika Liotard and Ilda Figueiredo are also vice-presidents, meaning that GUE/NGL has 50:50 representation among its vice-presidents.
Eva-Britt Svensson, upon election as chair of the European Parliament's Committee on Women's Rights, declared:
"This is a strategic post for the Left, where we can finally have a role in defining the agenda and working towards stronger commitments for gender equality at EU level."
Svensson stressed that the agenda on gender equality is not a separate one but is a central element of any sustainable solution to some of the most important problems we are facing and responds to concerns raised by citizens across Europe.
"We are confronted with lots of challenges and our feminist perspectives will be important in finding and defining the political answers to the economic and financial crisis, to the climate crisis, and to build a more social Europe."

Political groups
Work in the European Parliament is based around the political groups. There are currently seven groups in the parliament.
Each group takes care of its own internal organisation by appointing a chairperson, a bureau and a secretariat.
Twenty-five members are needed to form a group, and at least one-fifth of the member states (at present, six member states) must be represented within the group.
Some members do not belong to any political group and are known as "non-attached members".
Before every vote in plenary, the groups examine the reports drawn up by the parliamentary committees and table amendments to them.
Some groups have a stricter whip system than others, putting more pressure on the MEPs in that group to vote in favour of the official group position.
The groups often try to find compromise agreements on different issues, which often means the two biggest groups agree and the others are left out.
The groups agree representation in the committees, and the chairs and vice-chairs of those committees. The groups are provided with speaking time in the plenary session according to their size, this time being distributed to different national delegations in the group.
Among other things, political groups provide research, campaigning and administrative back-up to MEPs. They also have financial resources which they can distribute directly to the delegations to spend on EU-related information and campaigns.

Irish membership of political groups
Bairbre de Brún is a member of the Confederal Group of the European United Left/Nordic Green Left (GUE/NGL). Joe Higgins is also a member of this group.
The largest group in the parliament is the European People's Party (EPP) in which the Fine Gael MEPs sit. The Labour Party MEPs sit with the Progressive Alliance of Socialists and Democrats (S&D). Fianna Fáil and Marian Harkin are members of the Alliance of Liberals and Democrats for Europe (ALDE). Ulster Unionist Jim Nicholson sits alongside the British Conservatives in the European Conservatives and Reformists Group (ECR). There are no Irish members in the Group of the Greens/European Free Alliance or the Europe of Freedom and Democracy Group. The DUP's Diane Dodds is "non-attached", which means she does not belong to any political group.
The most noticeable changes see Fianna Fáil shifting from the right-wing Eurosceptic UEN group to the Liberals. This move had been attempted before the last term but apparently was vetoed by the Fianna Fáil MEPs. A more determined party this time pushed through the move, to the disappointment of Brian Crowley.
The Union for Europe of the Nations hasn't gone away – it has instead been replaced by the European Conservatives and Reformists Group. The ECR represents the new anti-federalist conservative group promised by British Tory leader David Cameron. Jim Nicholson will follow the Tories into the new group. The former secretary general of UEN, Fianna Fáil's Frank Barrett, will remain as secretary general of the new group, answering now to the Tories.

European United Left/Nordic Green Left (GUE/NGL)
Bairbre de Brún is a member of the GUE/NGL group (as is Joe Higgins). GUE is a French-language acronym for European United Left; NGL stands for Nordic Green Left. The group has 35 members from 12 countries. It is a confederal group which means there is no 'whip' system in voting and each party votes as they see fit.
The NGL component is comprised of the Swedish Left Party, the People's Movement from Denmark, Sinn Féin and the Socialist Party of the Netherlands. Among other things, the parties share a critical view of the process of federalisation and have a particularly close co-operation, within the wider group, on a range of issues.
The president of the group is Lothar Bisky from Die Linke (The Left) in Germany. The vice-presidents are Ilda Figueiredo (Portugal), Takis HatziGeorgiou (Cyprus), Patrick Le Hyaric (France), Kartika Liotard (Netherlands), Miloslav Ransdorf (Czech Republic) and Eva-Britt Svensson (Sweden).
What the committees deal with
Committee on the Environment, Public Health and Food Safety (ENVI)
Committee responsible for:
1.    Environmental policy and environmental protection measures, in particular concerning:
a.    Air, soil and water pollution, waste management and recycling, dangerous substances and preparations, noise levels, climate change, protection of biodiversity,
b.    Sustainable development,
c.    International and regional measures and agreements aimed at protecting the environment,
d.    Restoration of environmental damage,
e.    Civil protection,
f.    The European Environment Agency;

2.    Public health, in particular:
a.    Programmes and specific actions in the field of public health,
b.     Pharmaceutical and cosmetic products,
c.     Health aspects of bioterrorism,
d.     The European Agency for the Evaluation of Medicinal Products and the European Centre of Disease Prevention and Control;

3.    Food safety issues, in particular:
a.     The labelling and safety of foodstuffs,
b.     Veterinary legislation concerning protection against risks to human health; public health checks on foodstuffs and food production systems,
c.     The European Food Safety Authority and the European Food and Veterinary Office.
What the committees deal with
Committee on Petitions (PETI)
Committee responsible for:
1.     Petitions;
2.     Relations with the European Ombudsman.
What the committees deal with
Committee on Regional Development (REGI)
Committee responsible for:
1.    Regional and cohesion policy, in particular:
2.    The European Regional Development Fund, the Cohesion Fund and the other instruments of the Union's regional policy,
3.    Assessing the impact of other Union policies on economic and social cohesion,
4.    Co-ordination of the Union's structural instruments,
5.    Outermost regions and islands as well as trans-frontier and inter-regional cooperation,
6.    Relations with the Committee of the Regions, interregional co-operation organisations and local and regional authorities.
7.    The urban dimension
Pléann De Brún tosaíochtaí uachtarántacht na Sualainne
CUIRIM fáilte roimh rún na hUachtaránacha Sualannaí le fócasú ar cheisteanna beartais in áit ceisteanna bunreachtúla le linn a huachtaránachta.
Ach chinn an Chomhairle neamhaird a dhéanamh do thoil mhuintir na hÉireann a cuireadh in iúl go daonlathach, agus chinn siad iarracht a dhéanamh Conradh Liospóin a bhrú trí.
Ar an drochuair is é an creatlach beartais atáthar sa tóir air an clár oibre teipthe céanna de dhírialú agus léirscaoileadh. Ní hé seo aisfhreagairt oiriúnach don ghéarchéim eacnamaíoch. A mhalairt ar fad atá fíor, is leanúint é ar na beartais chéanna a thug isteach an ghéarchéim agus is iad na beartais chéanna seo atá níos daingne i gConradh Liospóin.
Deirtear linn gur gá dúinn Conradh Liospóin a bheith againn toisc go bhfuil sé á dhéanamh le blianta fada anuas. Ach dréachtaíodh agus aontaíodh Conradh Liospóin roimh an ghéarchéim eacnamaíoch, bunaithe ar bheartais a chuir an lasair sa bharrach. Is ábhar tubaiste é brú chun tosaigh na seanbheartais siúd anois chun an ghéarchéim a mhéadú.
Tá gá le beartais nua dúinn d'aimsir nua.
Tá gá le Conradh nua dúinn d'aimsir nua.
Maidir le hathrú aeráide, tá sé tábhachtach go mbrúnn Uachtaránacht Sualannach an AE do mhargadh láidir i gCóbanhávan.
De Brún slams new vote on old Lisbon Treaty
BAIRBRE DE BRÚN said that the overwhelming number of people who voted against the Lisbon Treaty last year did so because they believe that a better Europe is possible.
She said that 'No' voters want "a Europe that is democratic and accountable; that promotes workers' rights; that protects public services and that seeks to play a positive role in the wider world".
The Six-County MEP added:
"We are told that the European Council has agreed a package of legally-binding guarantees that respond to the concerns of Irish people. What has been published is nothing more than clarifications of the Lisbon Treaty. It in no way alters its content or substance.
"When we vote on this matter in October we will be voting on exactly the same treaty as was rejected last year. No amendments, no additions, no deletions. Exactly the same Lisbon Treaty as was rejected by 53% of the electorate.
"We need a new treaty for a new time."

An Phoblacht Magazine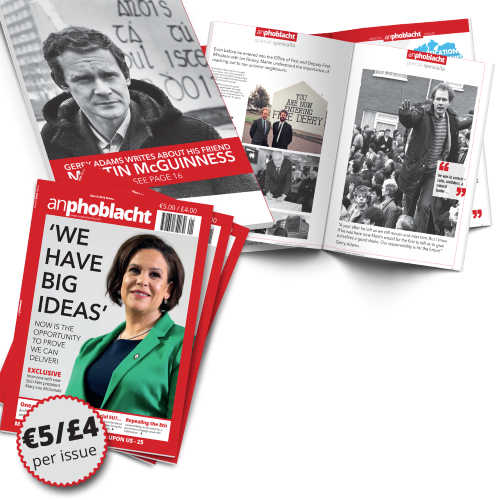 AN PHOBLACHT MAGAZINE:
The first edition of this new magazine will feature a 10 page special on the life and legacy of our leader Martin McGuinness to mark the first anniversary of his untimely passing.
It will include a personal reminiscence by Gerry Adams and contributions from the McGuinness family.
There will also be an exclusive interview with our new Uachtarán Mary Lou McDonald.
test