6 August 2009 Edition
Navan mayor slates HSE budget cuts aimed at domestic violence services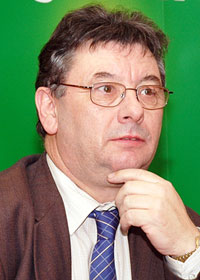 CUTS proposed by the Health Service Executive targeting the Meath Women's Refuge and Support Services (MWRSS) will place even more women and their children in the frontline of domestic violence, Sinn Féin Cllr and Mayor of Navan Joe Reilly has said.
"The proposed cutbacks are totally unacceptable and place more mothers and children in the frontline of domestic violence. Since 1996, an average of one woman per month is murdered, many in their own homes. Thousands of children have also been witness to or suffered domestic violence. It begs the question if we have already forgotten the thousands of children who suffered abuse in our institutions?"
 Mayor Reilly said that the attitude of the HSE raises a number of important questions that it must answer:–
Why are the women and children of Meath and surrounding areas not entitled to the same level of services as women and children in other areas where the cut in funding is between 3%/ 5%?
From May to July, 7 women and 21 children were unable to access crisis accommodation – does the HSE expect victims to remain in dangerous domestic situations? If not, what is it going to do about it?
What services does the HSE propose to put in place for those victims who cannot access Meath Women's Refuge and Support Services in the future due to cutbacks?
The HSE's withholding of the revised funding until the refuge submits to the revised 18% cut is a form of blackmail and a totally unacceptable method of control/abuse. Does the HSE believe this to be in the best interest of victims?
The message to the perpetrators of domestic abuse and violence from the HSE is 'away you go' as it will be all the harder for your victims to get to safety as that safety is being effectively handcuffed;
By demanding such a savage cut compared to other services the, HSE is in fact inflicting abuse on a sector of our society already abused.
SAFE SERVICE NEEDED
The Sinn Féin mayor said the HSE should respond in a positive fashion to the call from Meath Women's Refuge and Support Services for further talks and agreement on the funding necessary to run a safe service for those suffering domestic abuse.
 "I am also asking members of the public to contact the HSE, local politicians and media to express support for those who needs the service of such organisations as MWRSS," Cllr Joe Reilly added.
"Perhaps those politicians and economists who so glibly demand cutbacks and 'slash and burn' policies should realise that it is such projects as MWRSS and real people that suffer from their demands."