6 August 2009 Edition
Holland case underlines need for transfer of powers
Harry Holland was murdered in horrific circumstances in West Belfast in September 2007. A loving  family man, his killing shocked the West Belfast community. There has been widespread community support for his family ever since the brutal murder, and throughout the subsequent trial.
Widespread concerns have been expressed at the role of the North's Public Prosecution Service (PPS) in the Holland case – its failure to prosecute this case properly, the 'horse trading' that went on between the PPS and the defence representatives, the failure to keep the Holland family involved, and the judgement which interpreted the murder as surprising and spontaneous.
The report of the Criminal Justice Inspectorate in August 2007 on the PPS identified 40 weaknesses requiring action. The biggest criticism was the continued failure to give substantive reasons for the failure to prosecute in cases.
The Chief Inspector, Kit Chivers, when describing the PPS, said that adversarial attitudes had become ingrained from the decades of conflict. This is evident in the PPS reaction and response to the Holland family, including its failure to listen to their concerns or keep them informed of decisions it was taking in the case.
At this time because of the failure to secure the transfer of powers on Policing and Justice from Britain to the North of Ireland it is the British Attorney General who has the statutory power to scrutinise the conduct of the Public Prosecution Service.
This is one example of why it is so important that these powers are transferred.
An Phoblacht Magazine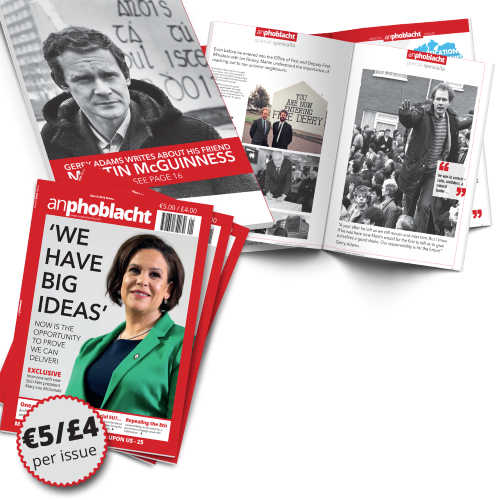 AN PHOBLACHT MAGAZINE:
The first edition of this new magazine will feature a 10 page special on the life and legacy of our leader Martin McGuinness to mark the first anniversary of his untimely passing.
It will include a personal reminiscence by Gerry Adams and contributions from the McGuinness family.
There will also be an exclusive interview with our new Uachtarán Mary Lou McDonald.
test