30 July 2009 Edition
More than a game BY MATT TREACY
Dublin going for Kerry gold
ARE Kerry engaged in a cunning scheme to sucker the rest of us into believing that they are washed up and with no hope of advancing any further in the championship? Well, we will find out on Monday, and Dublin will be the beneficiaries or otherwise of what transpires.
It is true that Kerry have been less than convincing in their matches so far, crowned by the comprehensive defeat at the hands of Cork, who themselves were perhaps slightly fortunate to have beaten a possibly naïve Limerick team in the Munster final.
They started well against Longford and were possibly the victims of their own over-confidence in the second half when they looked a bit jaded against a determined onslaught. The same symptoms were apparent against Sligo, and that was truly a game which they might have lost had it not been for the missed penalty.
Last Sunday, against Antrim, Kerry were chasing the game and looked like they might be beaten until Paul Galvin struck for a goal ten minutes from time. Only then did they begin to resemble anything like the team that has contested the last five finals.
It was fitting that Galvin was the player to pull them over the line as he has been key to Kerry winning all of their games in the qualifiers and indeed they might well have exited by now had it not been for him.
If the bad news for Kerry is that they have not looked good so far, the good news is that they are still there and if they can't motivate themselves to do better against Dublin then something is badly wrong. They can also perhaps take comfort from the fact that Tyrone were very few people's idea of All-Ireland champions at the same stage last year after they had stumbled through the qualifiers, deserted by all but their most loyal supporters, only to explode in the rain against Dublin.
They are also buoyed by the fact that Dublin have not beaten Kerry in their last seven championship encounters, not since the 1977 semi-final when Bernard, the father of Alan and Bernard junior, scored the goal that turned the tide. There are Dublin supporters who have never seen Dublin beat Kerry.
Rationalists will argue that there is nothing to all that other than the fact that Kerry mostly happened to have better teams than Dublin and that from such a perspective Dublin at the moment would appear to have the better team and therefore should win. Which doesn't explain why most bookies have both teams at even money. And they are the most rational of chaps.
Dublin clearly do have a problem with Kerry just as Kerry have a problem with Ulster teams. Kerry expect to beat Dublin and most Dublin supporters expect Kerry to beat Dublin. I am not saying that the players share that glum view but it permeates the atmosphere just as the shadow of appalling fear will cross the face of any Kerry person when you mention the word 'Tyrone'.


SO these are two teams with issues. They are also two sides who, adjudged coldly, are probably on their last chance to win an All-Ireland, certainly in their current battle order. There are differences, of course. Kerry have been to the top of the mountain and are arguably staggering their way back down. Dublin have seen the summit but have never reached it. It will be the fear of having to turn one's back on the dizzy heights against the fear of never even being able to say you were there.
Losing will not just mean the end of the season but for many of the players it may very well mean the end of their playing careers and certainly whoever does end up with the short end of the stick will find it very difficult to recover. In fairness to Pat Gilroy and his players, they have recovered from last year's humiliation at the hands of Tyrone in a manner that many people thought was unlikely. Defeat on Monday, however, might well be the final straw.
Likewise for Kerry, the impact of the defeats at the hands of Tyrone cannot be underestimated. They would certainly like to have another crack at them but you have to wonder, watching the performances, whether their hearts are fully in the quest. I am not suggesting that that is a conscious thing on the part of the players but it would provide one explanation for their relative poverty this year so far.
Looming over everything, haunting their days and nights is the spectre of Tyrone. One Kerry chap (who for his own safety I shall forebear naming) even suggested that he would prefer being beaten by Dublin to another one at the hands of Mickey Harte's side. I somehow doubt, however, whether that is a common sentiment in the Kingdom.

Rationalists will argue that Dublin would appear to have the better team and therefore should win


DUBLIN'S season, on the other hand, has been similarly overshadowed by that spectre but in a different way.
Such was the scale of last year's hammering that pride alone dictates that they would relish the opportunity to redeem themselves. Ironically, if they are to advance to redemption day they will have to overcome not only Kerry but very possibly Meath or Mayo, two other teams who feature prominently in the Dublin psyche. A Dublin team with such scalps dangling from their belt would, at the very least, be psychologically up for putting it up to Tyrone.
All of the issues involved mean that we should be in for a fascinating match on Monday. And I wouldn't even dare to predict the outcome although past experience does not make me optimistic.

An Phoblacht Magazine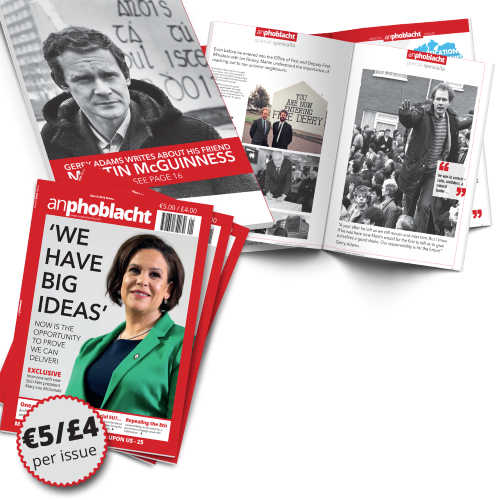 AN PHOBLACHT MAGAZINE:
The first edition of this new magazine will feature a 10 page special on the life and legacy of our leader Martin McGuinness to mark the first anniversary of his untimely passing.
It will include a personal reminiscence by Gerry Adams and contributions from the McGuinness family.
There will also be an exclusive interview with our new Uachtarán Mary Lou McDonald.
test