30 July 2009 Edition
Ryan Report - Government plan a step in the right direction
CHILD WELFARE groups and victims of institutional abuse have given the Irish Government's plan to implement the recommendations of the Ryan Report a qualified welcome.
Much of the plan's content are long overdue. Although it states there will be increased funding and staffing for social care services, these must be adequately resourced. Increases in funding are only token gestures if they are not adequate to meet the requirements of services.
Funding for domestic violence services, which sadly many children end up availing of, are currently being cut back, some by up to 18%, almost a fifth of their total budget.
The introduction of an out-of-hours social care service on only a pilot basis falls far short of what is required. The Minister for Health needs to give a commitment that such a service will be rolled out on a state-wide basis.
The proposal to place the Children's First guidelines on a statutory footing are to be welcomed but this falls short of mandatory reporting.
Sinn Féin TDs have stated their disappointment that the inspection of St Patrick's Institution where under-18s offenders reside will remain the sole responsibility of the Prisons Inspectorate. It is ill-equipped for conducting child-centred inspections.
On too many occasions we have seen the Irish Government give far-reaching commitments which have never come to fruition. However, the publication of this implementation plan is a step in the right direction.


An Phoblacht Magazine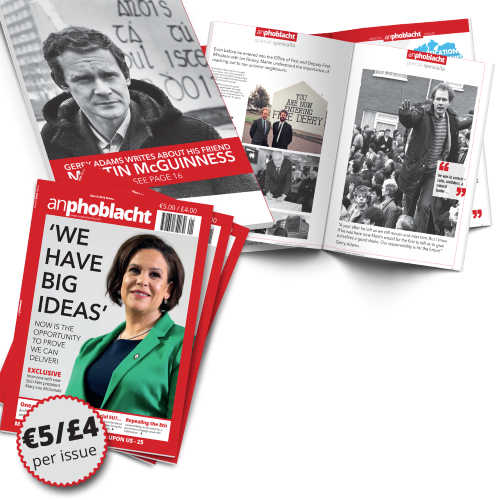 AN PHOBLACHT MAGAZINE:
The first edition of this new magazine will feature a 10 page special on the life and legacy of our leader Martin McGuinness to mark the first anniversary of his untimely passing.
It will include a personal reminiscence by Gerry Adams and contributions from the McGuinness family.
There will also be an exclusive interview with our new Uachtarán Mary Lou McDonald.
test