23 July 2009 Edition
THE JULIA CARNEY COLUMN
The politics of McCarthyism
Much of the media coverage of the last week or so has been dominated by discussions about a report compiled by a group of failed and very well-off economists that the zombie-like Irish media has adopted without question. As Vincent Browne pointed out in the Times, "The media, almost en masse, has been cheerleading a report that amounts to the most explicit demand for even deeper inequality and injustice in this society, as the means of resolving what is, obviously, a major crisis."
I'll come back to the politics of it in a minute but even some of the basics are wrong. For example the McCarthy report recommends cutting the 217 staff of the National Treasury Management Agency by 40.
Dr Michael Somers, head of the NTMA, is delighted. "We never had 217 staff, so cutting us from 217 is absolutely not a problem because we are below that," he told the Irish Times. "We would be delighted to cut 40 jobs on that basis." Somers points out their current staff is 168 so McCarthy's actually proposing hiring another nine people.
For more examples of the error-strewn approach of McCarthyism, check out Unite economist Michael Taft's blog, Notes on the Front.
As for the politics of McCarthy, what politics? A number of journalists made the dubious claim that McCarthy is politically neutral, that this is a report of experts based entirely on the facts. The problem here is a lack of understanding by Irish journalists of the words 'political' and 'neutral' (they don't understand Irish neutrality either but that's not news). McCarthy may be neutral in terms of political parties, but as the current edition of Phoenix points out, claiming he's 'politically neutral' is like arguing the Pope's open-minded on religion.
McCarthy's a right-wing economist committed to free market economics who never met a public service he didn't believe should be cut. That's a political bias but our journalists don't recognise it as such and in fairness, it's not their fault. Most Irish political parties aren't particularly ideologically motivated. They're rooted in consensus politics, arguing how best to manage our economic system without wondering whether it's the right system in the first place.
An understanding of serious ideological or economic issues is, for an Irish journalist, like being an expert on Japanese 17th century feudal politics. Quirky, but professionally useless. So when someone like Colm McCarthy comes along with the ludicrous notion that the way to tackle unemployment is to, ummm, put another 17,000 people on the dole they're not equipped to deal with it.
 


We could all learn a lot from the Irish Farmers Association? Direct action? You people up in Dublin wouldn't know it if it bit you on the backside. Five thousand people picketing the Minister's office in Cavan? No problem. Hanging the Minister in effigy from a pole? Not a bother on it. Blocking the entrance to the home of a Fianna Fáil backbench TD and then egging her house in the dead of night? Arguably slightly dubious, but we got away with it.
The kind of protests that would earn a cheeky young chuck a hiding in Store Street barracks or a dreadlocked Rossport protestor a swift trip over the side of a ditch are seen as part of some sort of natural right for farmers. It's reached a point where releasing sheep into the Department of Agriculture offices is now so 1980s. We're about tractor convoys bringing the city to a halt that still have more support than taximen doing the same.
Michael Clifford made that point well in the Sunday Tribune. While the local Gardaí look on calmly no matter how aggressive a farmer protest gets how would they react if a group of 60 working class young men from Knocknaheany in Cork or Neilstown in Dublin protested outside the home of the local Fianna Fáil TD?
Still though, not sure about egging Margaret Conlon's house. I mean, she's a bit harmless, isn't she? Now, egging Dermot Ahern's house. That takes a bit of gumption. Not that I'd endorse it of course.
Finally, Gerry Moriarty of the Irish Times is in Israel 'at their invitation' to hear what 'Israelis think, feel and experience'. Propaganda junket in other words. Interesting quote though from Ruth Zach, an Israeli foreign affairs ministry official soon to be posted to the embassy. "We have completely lost the battle in the media," she says. "We are not given a fair chance." Moriarty goes on to suggest that Israel is now seen as the Goliath in the David and Goliath metaphor for the Middle East and that Israelis don't know how to counter that view.
For starters, they could stop slaughtering Palestinians, denying them humanitarian aid, stealing their land, imprisoning them, torturing them and lieing about it. Just a suggestion mind.

An Phoblacht Magazine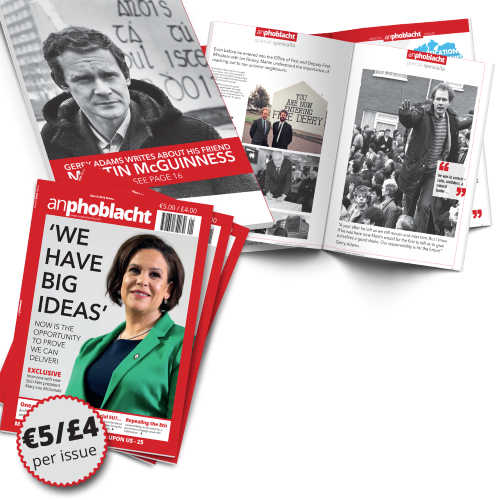 AN PHOBLACHT MAGAZINE:
The first edition of this new magazine will feature a 10 page special on the life and legacy of our leader Martin McGuinness to mark the first anniversary of his untimely passing.
It will include a personal reminiscence by Gerry Adams and contributions from the McGuinness family.
There will also be an exclusive interview with our new Uachtarán Mary Lou McDonald.
test