23 July 2009 Edition
'An Bord Snip' threatens rural economy - Morgan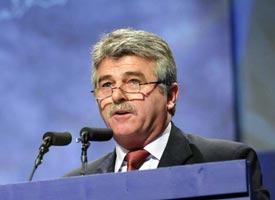 SINN FÉIN Economic Spokesperson and Louth TD Arthur Morgan has said that the government had to recognise the real and damaging implications for rural Ireland of implementing large parts of the McCarthy report. Morgan, who is drafting a report on creating jobs in the agri-food sector on behalf of the Oireachtas Enterprise and Employment Committee, dubbed the report a book-keeping exercise that took no account of what was needed to ensure a sustainable economic future for rural Ireland.
Speaking from Leinster House Morgan said:
"The approach to the fiscal crisis we are facing needs to be underpinned by a vision for the future of the state – including a thriving rural economy and balanced regional development.  It is well recognised that one of the potential future growth sectors in the economy is the agri-food sector.  We won't be able to expand this sector if rural areas are disseminated through cuts in public services, infrastructure and the agriculture sector as proposed in the McCarthy report.  These cuts represent short-terms savings that will result in longer term losses – both in terms of lost revenue to the exchequer and the social and economic consequences for rural Ireland that will see future governments forced to bring in expensive programmes to tackle rural disadvantage.
"This was a book keeping exercise that took no account of what was needed to ensure a sustainable economic future for rural Ireland.   Much of this report should be binned – particularly those short-sighted and deeply damaging cuts proposed to frontline public services, social protections and rural services and infrastructure.
"Colm McCarthy neither understands nor cares about rural Ireland, or indeed the poorest in Irish society. The McCarthy Report calls for the amalgamation of rural primary schools, ending the funding for the Rural Transport Scheme, closing down a number of rural Garda stations and the abolition of the Department of Community, Rural and Gaeltacht Affairs. If Colm McCarthy had an iota of understanding of the fabric of rural communities he would not have recommended such measures.
"Last year Sinn Féin Senator Pearse Doherty published a report entitled    Awakening the West  – Overcoming social and economic inequality. The recommendations of this report were unanimously endorsed by the all    party Oireachtas Committee for Arts, Tourism, Rural, Community and    Gaeltacht Affairs.  Sinn Féin Kerry TD Martin Ferris also drew up a report on ensuring the future viability of fishing and farming in the West for the Oireachtas Committee on Agriculture and Fisheries while I recently secured agreement of the Oireachtas Committee on Enterprise, Trade and Employment to draft a report on expanding employment in the agri-food sector. This is something which I will be working on over the summer recess.
 "Savings have to be made. Earlier this year Sinn Féin published a number of public finance    reforms and efficiencies that could save the exchequer approximately 5 billion euro in a twelve month period if implemented. Unlike Colm McCarthy, Sinn Féin understands the challenges facing rural Ireland and we are committed to ensuring a future for people living and working there. We have solid revenue raising proposals and cost saving measures to address the current deficit.