23 July 2009 Edition
HEALTHCARE: Latin lessons for Irish health chiefs, says top kidney specialist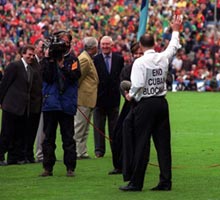 Sinn Féin benefit this Saturday for medical aid to people of Cuba

BY NIALL CONNOLLY

DUBLIN GAA three-times All-Ireland finalist Dr David Hickey, top kidney specialist at Beaumont Hospital, thinks that Department of Health chiefs should visit Cuba to learn from the Cuban health system.
"How can it be," David asks, "that Cuba, an island of 11 million people, could be operating its health system on a budget of €300 million, the equivalent of the budget for Beaumont Hospital and deliver a world-class medical service?"
David tells An Phoblacht that his passion for Cuba was aroused through sport, watching the great Cuban athletes like Stevenson in the Olympics of 1976. He first went to Cuba in 1999.
"What struck me was that there were no kids begging in the streets, no homeless on the streets, no poverty on the streets.
"While in Havana I met with Professor Alfonso Guerra and we started the Irish Cuban Medical Association. In the year 2000 we sent €60,000 to Cuba to start an education centre for kidney disease. When I went back six months later and saw the progress achieved, I was taken aback."
The centre was built by the doctors and local community and all the monies that were sent over were accounted for, "down to the last cent", David says in open admiration.

"The transparency and lack of corruption, the good use of resources for the benefit of the community left me very impressed. It is something we lack here in Ireland."
Visibly annoyed by the cutbacks taking place in Beaumont Hospital, David Hickey says:
"The Cuban people's determination to create a just and equal society and a model of a new human being that Ché spoke of has allowed them to advance in health and education for the benefit of its entire people and I admire them for that."
"Over the last 10 years, the Irish Cuba Medical Association has sent out ten 40-foot containers of medical equipment and medication. It is a programme of goodwill between the people of Ireland and Cuba, David says.
"We are a non-political, non-denominational programme and will accept support from any goodwilled source."
David Hickey is a committed advocate of justice and equality and in his profession he is not afraid of confrontation.
In 1999, at the 25th anniversary of his Dublin team winning the 1974 All-Ireland, he protested in support of Cuba by showing his tee-shirt that read: "End the blockade of Cuba", a well-publicised gesture.
"It was clear to me that the world did not know of the very nasty attack on Cuba by the United States."
And the ongoing blockade by the USA still costs people their health.
"The cost of sending a container of medical equipment to Cuba is very expensive because of the extra territorial law by the United States punishing any ship that docks in a Cuban port by not allowing them to dock in any port in the United States for six months. This is a gross violation of the Geneva Convention. Even in times of war, medical aid has free passage. This has been the situation since the time of President Kennedy.
"The human and financial cost of the blockade on Cuba continues to be a major burden on the lives of all the Cuban people, young and old. It's my sincere wish to see it lifted."

• This Saturday, 25 July, Sinn Féin is holding a benefit night in Dublin to raise funds to send a 40-foot container of crucial medical equipment to Cuba. One of the special invited guests is Cuban Ambassador to Ireland Noel Carrillo. 7:30pm at The Teachers' Club, Parnell Square.  Táille €10, includes Cuban/Latin American music and DJ.