9 July 2009 Edition
OPINION: ToirÉasa Ferris on elections that could have been worse but should have been better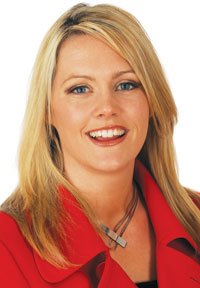 Where's Sinn Féin at? Where are we going?
IT'S 1.17am and I am sitting at my kitchen table typing away. Exactly four weeks ago I was doing the very same thing – in a panicked attempt to get the last of the canvass issues followed up in time for the post later that morning. That day we had completed the last of our canvassing and after a few months of 17-hour days I was happy to work into the early hours as it was nearly all over and by Saturday the hard slog would hopefully prove to have been worth it.
Tonight, however, while the setting is the same, it's a whole different script.
I am into the third day of a week off and have just returned from the cinema – the first time I've been in a year. Having read two Martina Cole novels since Monday, I went to see Hangover, one of the funniest films ever, to see if that could do what gruesome tales of east London crime lords couldn't. Obviously, given that I'm sitting here writing this, director Todd Philips did not succeed in distracting me from something that has been bothering me since 6 June and, if I'm honest, for some time before that.
As a party, what are we at and where are we going?
Republican activists the length and breadth of this country put in Trojan work over the last few months. The anger of ordinary citizens was palpable on every doorstep and the kind of economic policies we have long called for were not just being considered but demanded by the people. This should have been our election but it wasn't.
On the morning of Saturday, 6 June, North Kerry republicans were on a high. Our candidates were heading the polls. We were holding all our seats despite a reduction in the number of seats in one of the electoral areas; we were taking a second town council seat in Listowel and we had the lion's share of the EU vote in North Kerry.
By mid-afternoon our happiness was dampened. Getting feedback on tallies from around the country it appeared that while we were making some gains, particularly across Munster, they were going to be balanced out by losses elsewhere. Yes, it could have been worse but what is nagging me and scores of others I've spoken to since is the fact that it should and could have been a whole lot better.
What is most disappointing for the hard-working activists on the ground is that a lot of us were not surprised. We remained hopeful throughout the campaign but knew in our hearts that our party has a job of work to do before we will achieve the electoral results we hope for, not to mention our ultimate objective.
If we are honest with ourselves we will admit that the majority of those who we need to put a 1 or a 2 after our logo on a ballot paper unfortunately see us as a Northern-based party, irrelevant to the everyday concerns of people in the 26 Counties. Voters are unclear about what we stand for, which is not surprising as I'm sure many of us are starting to wonder about this also. We have been trying to appeal to too broad a spectrum of people and as a result have lost touch with our base. For this reason, amongst others, we were seen as neither a credible alternative to the Government nor a party of protest.

After more than a decade working for the party down this end of the country, it hurts to say it but the fact is – Sinn Féin simply means nothing to the bulk of people in the South. We therefore need to stop asking ourselves 'Why don't more people vote for us?' and start asking 'What must we do to win people's support?'
This debate needs to take place now. It's more than four weeks since the election and we, the activists, are waiting. The party is suffering an identity crisis – what are we trying to achieve in the 26 and what do we stand for besides a united Ireland? We can't afford to wait any longer to answer these questions.
I believe we need to get back to the basics of representing people on the ground – and building republicanism from the ground up. Electorally, we need to build the party around councillors who live in the communities they represent and are close to people on the ground. We must return to being community activists, not politicians. By focusing all our energies on winning extra Dáil seats in certain constituencies we have put the cart before the horse.
Abstract talk of 'Left' or 'Right' is meaningless to ordinary people. We need to translate the broad terms 'republicanism' and 'socialism' into a more modern language of 'decency, of looking out for each other, of a sense of community' – a language ordinary people understand.
Let's get clear on who our potential supporters are and give them meaningful reasons to vote Sinn Féin.
Forget the notion of trying to be a catch-all party that appeals to everyone. That way we'll end up attracting the loyalty of no one. Let's focus on building an electoral coalition that can bring us 20-30% of the vote.
The recent Ard Fheis motion on bloodsports and constant 'rights talk' by our national spokespeople show the party to be out of touch with its base. We need to involve councillors and local organisers who have their finger on the pulse of public opinion in the formation of policy and in setting the direction of publicity.
We need to carve out a political space for ourselves that is distinct from that of the other parties – and we need to articulate that politics with confidence and conviction.
If we have learnt anything over the last few months it is that we need to change the way we communicate. People have a short attention span and are not interested in abstract ideas or policy details. We need a simple message communicated in language people understand. I've written nearly 1,000 words and I bet some of you remember that I was at the cinema and I'm wondering what we as a party stand for but most won't remember exactly what suggestions have been put forward. Don't worry as I'm sure you will after your second read.
Remember the passion, the self-confidence, the enthusiasm there was in Sinn Féin at the time many of us joined? We need to get back that self-belief.
We need to set a clear direction for the party in the 26 Counties so we know exactly what we are fighting for. We cannot continue to flounder. Many of our activists and councillors have shown immense dedication and self-sacrifice over the last few years for little reward. Their commitment cannot be taken for granted.
The worst thing this party could do would be to circle the wagons and shy away from the debate we need to have. So hopefully someone will take up this challenge and I can start going to sleep at night and focus on enjoying myself during my time off.
SINN FÉIN: As a party, what are we at and where are we going? 
An Phoblacht Magazine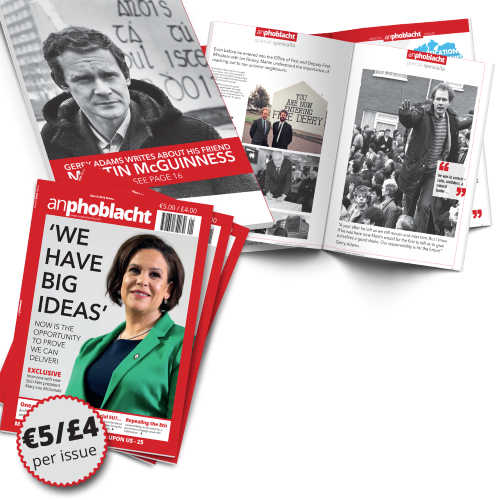 AN PHOBLACHT MAGAZINE:
The first edition of this new magazine will feature a 10 page special on the life and legacy of our leader Martin McGuinness to mark the first anniversary of his untimely passing.
It will include a personal reminiscence by Gerry Adams and contributions from the McGuinness family.
There will also be an exclusive interview with our new Uachtarán Mary Lou McDonald.
test