2 July 2009 Edition
Bringing it home in Mayo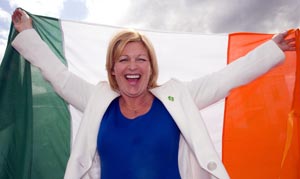 MAYO: Sinn Féin election success story
MAYO Sinn Féiners had plenty to be happy about after the recent local elections, with Therese Ruane getting elected to Castlebar Town Council, Gerry Murray topping the poll in Swinford, and Sinn Féin taking a new county council seat in Belmullet. But in Bellmullet the term 'breakthrough' took on a whole new meaning where, for the first time ever, a woman was elected when Sinn Féin's ROSE CONWAY-WALSH won a seat. ELLA O'DWYER reports.
ROSE CONWAY was born and raised in a place called Ballycroy in Erris, County Mayo. The family lived on a small farm and she was one of nine children. Rose went to the primary school in Ballycroy and then to the convent in Bellmullet, 20 miles from home. She continues her studies and is now completing a masters degree in Public Management, with a focus on local government.
Her family were republicans.
"The Conways were always republican supporters and they lived in Ballycroy forever," Rose recalls proudly. It's a republican area and, as Rose points out, "Seán McNeela came from there." Republican Seán McNeela died after 55 days on hunger strike, on 19 April 1940 in Arbour Hill Military Barracks.
"Republicanism was always in me. I was a teenager in 1981 and I used to hand out leaflets and go on marches in support of the Hunger Strikers. I'd get in trouble at school from the teachers for trying to stir up interest in the plight of the prisoners."
At the age of 19, Rose Conway went to England and worked in public Relations for William Hill Bookmakers.  She returned to Ireland in 1998 and tied in with the local Sinn Féin cumann.
"After I came back from England, I started looking around, looking at where decisions were being made locally: Mayo County Council which was entirely made up of men! I felt that couldn't be right."
In 2000, Rose-Conway married Noel Walsh. They now live in Bellmullet with their two boys, Anthony (6) and Peter (8). Rose kept her maiden name and she's now known as Rose Conway Walsh. There were other more pragmatic factors involved too in the doubled-barrelled name.  Her PR skills taught her that alphabetical order is no insignificant matter. "Polling cards are laid out in alphabetic order and research indicates that voters tend to be drawn to the name on the upper end of the card."  Rose Conway's PR skills were to kick in again later.
"I had absolutely no intention of standing for election ever but, coming up to the 2004 local elections, we started discussing the options and concluded that I should stand."
Rose Conway-Walsh came very close to taking a county seat in Belmullet back then. "I was about a hundred votes short of election for want of transfers which were just not coming Sinn Féin's way then."
Rose stood again for Belmullet County Council in this year's local elections, taking a new seat for Sinn Féin in Mayo. It is also the first time in the history of the 26-county state that a woman councillor was ever elected in Belmullet.
This coup was hardly down to the position of her name on the upper end of the polling card but Conway Walsh's PR skills will certainly have earned her new votes for the party. Public relations aside, Rose believes in hearing the views of others. "It's important," she says, "to reach out to people who fundamentally disagree with you. Who knows, maybe the engagement I've had with people of different political persuasions was what earned us the extra votes we lacked back in 2004."
In recent years there have been big issues to deal with in her native county – especially Corrib gas.
"I've been consistent in my condemnation as to the way Shell and the Government have behaved. It's heart-breaking to see how the whole issue has divided the community in Mayo. We're calling for an independent inquiry into how Pat O'Donnell's fishing boat, the Iona Isle, was sunk recently. Pat himself was put under Garda protection."
Another issue in Mayo, as with all counties across the country, is healthcare.
"The local hospital is in Castlebar but, because of Mary Harney's obsession with privatisation and 'centres of excellence', services like cancer treatment have been moved out of Castlebar Hospital and on to Galway and Dublin. Government policies are not being rural-proofed and communities like ours are left out on a limb."
On Sinn Féin's 'West Awake Campaign', Rose says:
"It's been a very useful exercise. The beauty of the Sinn Féin report on the West is that it brings all the issues and data together, identifying the obstacles facing people in rural areas and helping us to push for the issues to be addressed by the government."
Rose is well pleased with the election result in Mayo. "Therese Ruane took a seat on Castlebar Town Council. Unfortunately, Dave Keating lost his town seat in Westport but he broke new ground in Westport because it was the first time Sinn Féin stood a candidate there for the county."
A repeat victory for Mayo Sinn Féin was the re-election of Gerry Murray, who topped the poll to take a seat on Swinford County Council. "Gerry topped the poll in Swinford in 2004 and again at these elections," Rose says. "Gerry has been a great support to me during my own campaign. He's great with people and great to work with."
Gerry Murray too is happy with the Mayo results.
"We're very happy with the overall results. We've two great councilors in Rose and Therese. Therese wasn't too far off taking the county seat along with Castlebar Town Council. We're upbeat after these elections and so long as we keep doing the work on the ground and keep reaching out to people, we can only get stronger."
The element of outreach, referred to by both Gerry and Rose, seems to have rendered dividends in Mayo, opening further opportunities for party growth down the road.
"We got many more number 2 votes in the recent election than in 2004," Murray points out, "which just goes to show that it's worth engaging with people from other political perspectives. Over time, those people may lean your way."
On the prospects of a Mayo Sinn Féin seat in the Dáil, Councillor Gerry Murray says: "There's the fact that in Mayo, as all around Ireland, fewer and fewer people are voting Fianna Fáil or Fine Gael –  so there's a vote and people out there looking for a home."
 Successful Campaign: Poll topper Gerry Murray canvassing with Gerry Adams
An Phoblacht Magazine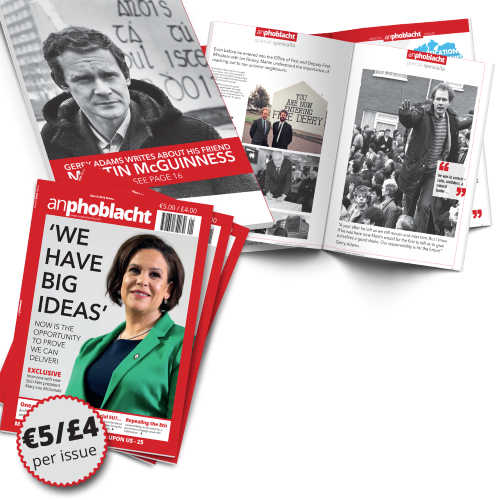 AN PHOBLACHT MAGAZINE:
The first edition of this new magazine will feature a 10 page special on the life and legacy of our leader Martin McGuinness to mark the first anniversary of his untimely passing.
It will include a personal reminiscence by Gerry Adams and contributions from the McGuinness family.
There will also be an exclusive interview with our new Uachtarán Mary Lou McDonald.
test