2 July 2009 Edition
Loyalist decommissioning
MOVES in the past week by unionist paramilitaries to decommission weapons are to be welcomed. Removing guns that have been used to kill over a thousand people is a step forward and a further indication that politics is working and that the Peace Process is very strongly embedded.
However, what people want to know is when the process of full decommissioning will be completed. The IRA dealt with the issue of arms four years ago and the role of the Independent International Commission on Decommissioning (IICD) is due to end in August.
It must also be remembered that unionist paramilitaries have been armed and directed by agencies of the British state. Their bloody record is a legacy of British rule in Ireland.
The vast majority of the victims of unionist paramilitaries were civilians murdered for no other reason than the fact they were Catholics. The sectarian ideology that has sustained these killer gangs still exists and its deadly consequences are still felt as we have witnessed recently in Coleraine. The decommissioning of this ideology of inequality is what will truly mark progress towards real reconciliation and a shared society.
An Phoblacht Magazine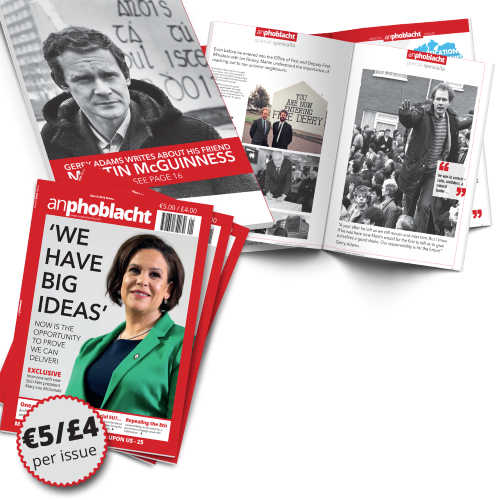 AN PHOBLACHT MAGAZINE:
The first edition of this new magazine will feature a 10 page special on the life and legacy of our leader Martin McGuinness to mark the first anniversary of his untimely passing.
It will include a personal reminiscence by Gerry Adams and contributions from the McGuinness family.
There will also be an exclusive interview with our new Uachtarán Mary Lou McDonald.
test