2 July 2009 Edition
Disastrous government policies highlighted again
FOR over a decade successive Fianna Fáil-led governments were warned against making the Irish economy over reliant on consumption and construction. The IMF is just the latest in a long list of economists and organisations to highlight this.
Finance Minister Brian Lenihan has a cheek to suggest, as he did in recent days, that no opposition parties offered alternatives during the boom years to avert the current crisis.
Sinn Féin opposed the reduction in capital gains taxes, which made it more profitable to speculate in property than to run a business. It opposed tax breaks that favoured investors over those trying to secure their first family home. It questioned why banks were allowed to over-lend to first time buyers. It supported the introduction of a tax on second homes that would have curbed the escalation of house prices and the development of a property bubble.
Between 2002 and 2007 Sinn Féin vigorously pursued those issues in the Dáil. Fianna Fáil Ministers repeatedly dismissed the proposals claiming there would be a soft landing in the property sector.
Equally Sinn Féin has for years questioned the sustainability of the existing tax system.
Fianna Fáil bought the 2007 election on promises that they could not deliver. They either lied to the people at that time or were so economically illiterate they did not see the crash coming. Either reason makes them unfit for government.
An economic stimulus package that includes a properly funded job retention and creation strategy and real investment in infrastructure and public services is needed. Saddling future generations with unprecedented debt and undermining Ireland's social and economic future is not a recovery plan, it's a perpetuation of bad government policy and inept decision making.


An Phoblacht Magazine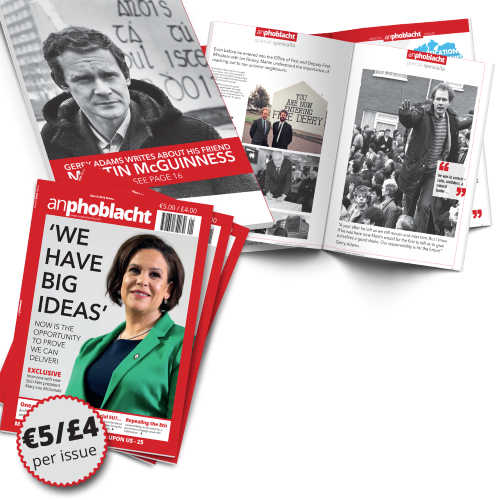 AN PHOBLACHT MAGAZINE:
The first edition of this new magazine will feature a 10 page special on the life and legacy of our leader Martin McGuinness to mark the first anniversary of his untimely passing.
It will include a personal reminiscence by Gerry Adams and contributions from the McGuinness family.
There will also be an exclusive interview with our new Uachtarán Mary Lou McDonald.
test