25 June 2009 Edition
Mile buíochais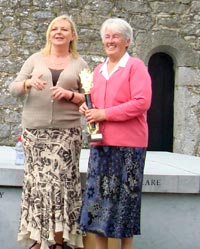 A chairde,
The Bodenstown Organising committee wishes to express its thanks to all who attended the Annual Wolfe Tone Commemoration last Sunday.
Many thanks to Terry Fagan and the North Inner City Folklore project and to the people from South Armagh, Dublin, Belfast, Derry and Fermanagh for providing all the pageantry.
Thanks to all the bands who travelled and participated in the day's proceedings, providing a very enjoyable event.  To Joe Hederman and the Dublin members who provided the excellent stewarding on the day.
A special word of thanks to Nicola King, Paul Hamiliton, Micheal Ó Conchúr and the newly formed Bob Doyle Cumann, Newbridge for all their assistance in the preparation and running of the event.  
Also many thanks to Martin, Stephen and Mark for their assistance with the transport.
Go raibh maith agaibh go léir,
Olive Sloan,
(Bodenstown Chief Marshall)