25 June 2009 Edition
Remembering the Past: John Boyle O'Reilly

BY MÍCHEÁL Mac DONNCHA
One day in February 1866 a prisoner under armed guard was led across a British Army barracks square in Dublin. The prisoner was himself a soldier, now facing charges of subverting the army. As he was being led away the colonel of the 10th Hussars cavalry regiment, Valentine Baker, shook his fist in his face and said: "Damn you, O'Reilly! You have ruined the finest regiment in the service!"
The prisoner was John Boyle O'Reilly, the most prominent of the 'soldier Fenians', Irishmen in the British Army who were members of the Irish Republican Brotherhood and who were preparing for revolution. O'Reilly's offence was regarded as especially grievous as he was seen, including by Baker, as one of the best soldiers in the regiment.
John Boyle O'Reilly was a native of Dowth, Co. Meath. As a boy he was a printer's apprentice on the Drogheda Argus. He moved to England and became a reporter with the Guardian in Preston, Lancashire. While there, O'Reilly's political consciousness developed and by the time he returned to Ireland in 1863 he was a member of the IRB. He enlisted in the 10th Hussars with the intention of spreading Fenianism in its ranks. Key IRB man John Devoy was tasked with recruiting within the British Army and when he first met O'Reilly the latter was preparing to deliver a despatch to the British Lord Lieutenant of Ireland.
O'Reilly personally recruited 80 men of his regiment to the IRB; thousands are believed to have been recruited throughout the British Army at that time. The British government suppressed the Fenian paper, the Irish People, and arrested many of the leaders in September 1865. O'Reilly and his comrades were betrayed by an informer and arrested the following February. Five of them, including O'Reilly, were court-martialled and sentenced to death, commuted to life imprisonment.
The harshest treatment was reserved for the soldier Fenians and O'Reilly was held for nearly a year in solitary confinement in Millbank Prison, transferred to Dartmoor, made an unsuccessful escape attempt and was transported to Australia in 1867.
ESCAPE
Two years later O'Reilly escaped from Australia on board a New Bedford whaler. This escape was replicated when, with O'Reilly's assistance, John Devoy and Clan na Gael in America organised the escape of the remaining six soldier Fenians from Fremantle on board the Catalpa in 1876.
O'Reilly settled in Boston and became editor of the Boston Pilot, a weekly newspaper regarded as the voice of the Irish in America. He was a progressive editor, supporting Irish independence, writing against sectarianism and anti-semitism and promoting the rights of African Americans and Native Americans. O'Reilly supported the 'New Departure' policy of co-operation between Fenians, Land Leaguers and Parnellites and he presented the address of welcome to Parnell in New York in 1880.
In 1885 African Americans in Massachusetts invited O'Reilly to address them and, 70 years before the start of the Civil Rights Movement, he denounced the segregation that he had seen in the South. He said:
"So long as American citizens and their children are excluded from schools, theatres, hotels or common conveyances, there ought not to be and there is not among those who love justice and liberty, any question of race, creed or colour; every heart that beats for humanity, beats with the oppressed."
That same year O'Reilly expressed his continuing commitment to Irish independence when he spoke at the unveiling of a monument on the grave of the Protestant Fenian John Edward Kelly in Boston. O'Reilly declared:
"The highest duty that ever comes to a man is not to do a deed of prowess or win a material victory but to endure, suffer and die for truth or freedom. The highest honour that a man can bear in life or death is the scar of a chain borne in a good cause."
John Boyle O'Reilly was mourned widely throughout America and in Ireland when, having accidentally taken an overdose of a sleeping drug, he died at his Boston home in 1890. He was born on 28 June 1844, 165 years ago this week.
An Phoblacht Magazine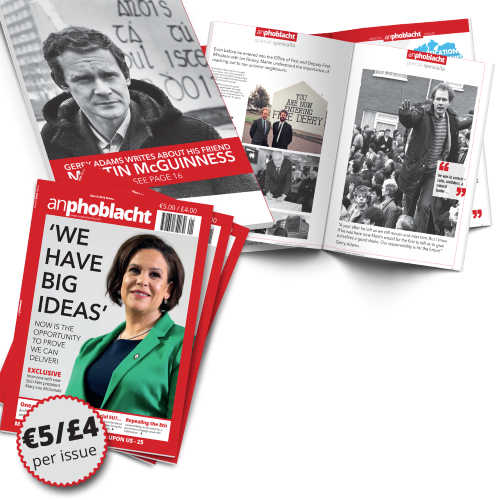 AN PHOBLACHT MAGAZINE:
The first edition of this new magazine will feature a 10 page special on the life and legacy of our leader Martin McGuinness to mark the first anniversary of his untimely passing.
It will include a personal reminiscence by Gerry Adams and contributions from the McGuinness family.
There will also be an exclusive interview with our new Uachtarán Mary Lou McDonald.
test