25 June 2009 Edition
Ardoyne praised in face of march provocations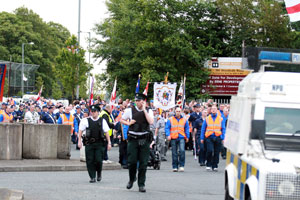 THE dignity and restraint with which the people of Ardoyne in north Belfast greeted last Friday's Orange Tour of the North parade through the area has been praised by Sinn Féin minister and local MLA Gerry Kelly.
Tension was high in the area after a Parades Commission determination gave permission to loyalist supporters to accompany a UVF band and two Orange lodges as they marched along the nationalist part of Crumlin Road at Ardoyne.
Dozens of PSNI officers faced nationalist residents who stood at the roadside protesting against the parade.
As the Orangemen and their loyalist supporters passed, a number of missiles were thrown by youths who had gathered at the Ardoyne shops but republican stewards prevented the trouble getting out of hand.
Speaking afterwards, Sinn Féin's Gerry Kelly criticised the Parades Commission over its decision to allow the parade to pass through the Ardoyne area.
"The Parades Commission have a lot to answer for sending another loyalist parade through the Ardoyne area. Despite this ridiculous decision, the people of this area have remained peaceful and dignified."
The Sinn Féin Assembly member was also critical of members of micro groups "who have come into this area and tried to incite trouble".
Kelly said that a number of young people had approached Sinn Féin and reported that "so-called dissidents" were encouraging them to attack the loyalists and the PSNI.
"The fact that this march has passed by with only a few minor incidents shows that these individuals do not represent the views of the people of Ardoyne."

ORANGE LEADERSHIP
Meanwhile, speaking at Bodenstown on Sunday 21 June, Sinn Féin's Martin McGuinness accused the Orange Order of refusing to make a contribution to the Peace Process.
"That has to end. The leadership of the Orange Order can no longer abdicate its responsibilities. Now is the time for the Orange Order to step forward.
"The days of republicans stretching ourselves and our communities to maintain calm in the face of sectarian provocation cannot last forever."
McGuinness's call comes in advance of this Saturday's Whiterock Orange Parade which sees hundreds of Orangemen and bands allowed to walk along the Springfield Road in west Belfast.
UNWELCOME TOURISTS: Nationalist residents standing at the roadside protesting against the parade