25 June 2009 Edition
Roma refugees to leave North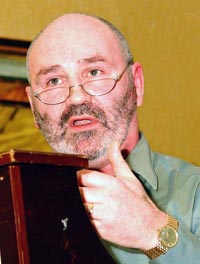 BY EMMA CLANCY
ONE hundred members of Belfast's Roma community have decided to return to Romania following racist attacks that forced them to flee their south Belfast homes over the weekend of 13-15 June. Of 115 Roma refugees who sought shelter in the City Centre Church last Tuesday, and were then moved to temporary accommodation in secret locations, only 14 have decided to remain in the North. Twenty-five have already left.
One woman, Maria Fechete, told the media:  "I haven't slept in a week - we've just had enough."
While the 115 south Belfast refugees stayed in temporary accommodation, further attacks have continued in the past week, with the windows of a Roma family's home being smashed on Wednesday night in east Belfast.
The Presbyterian City Church, which offered sanctuary to the families when they were driven from their homes, had its windows and doors smashed in on Monday night, in an attack which Joint First Minister Martin McGuinness called "totally and absolutely wrong, totally shameful and totally unforgivable".
South Belfast MLA Alex Maskey, visiting the church, said: "We must see effective leadership from all within the community, statutory and political leaders must collectively work to face down the any form of hatred,wherever it rears its ugly head."
In Tyrone, a Polish family with a four-year-old son have left their home in Moygashel, after an attack on their house and car, and the home of a Lithuanian family was attacked in the same area.
In south Belfast's impoverished loyalist village there has been consistent attacks on migrants who have moved to the area, which have intensified in the past three months, with Polish, Hungarian, Lithuanians and Slovakian families forced out since April.
After weeks of attacks only three people have been charged with intimidation of the Roma families. Three men have also been charged with the attack on the church.
The PSNI reaction to the violence has come under severe criticism. Refugees said the police response at times took up to two hours while in some cases the police failed to show up at all.
Before the Roma families left the area for the shelter of the church last week, it was left to local residents and anti-racism campaigners to physically guard and protect the homes.
Last year in the north, there were nearly 1,000 racially motivated crimes, with a hate crime clearance rate of 9.9 per cent.