25 June 2009 Edition
Unionists challenged after attack on graves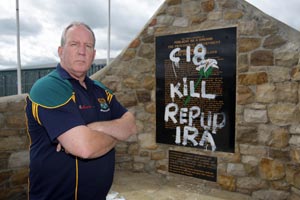 THE Republican Plot in Miltown cemetery in Belfast was desecrated on the night of Wednesday, 17 June. Racist and sectarian slogans, along with Combat 18 graffiti was daubed on the Republican Plot and a considerable amount of damage was done to the graves. The attack came in the aftermath of a series of racist attacks on Romanian families in the Belfast.
Commenting on the desecration Sinn Féin MLA Paul  Maskey said:
"The English fascist group Combat 18 has well established links with unionist paramilitaries in Belfast for many years. The racist attacks on the Romanian families all emanated from within unionist areas. Unionist political leaders must do more.
"No unionist political leader has contacted the Belfast National Graves Association or the families of those buried in the graves desecrated last night to offer assistance. We do not see any flow of information from within that community to the PSNI either on the attack on the Republican graves or indeed more worryingly on the disgraceful attempts to drive the Romanian community from the city.
"Racist attacks coming from within the unionist community in Belfast are not new and did not just start this week with attacks on the Romanians. This has been a long standing problem and one which clearly has not yet been properly addressed either by political representatives of that community or indeed by the PSNI. Otherwise these attacks would have stopped years ago."