25 June 2009 Edition
Call to disband PSNI Reserve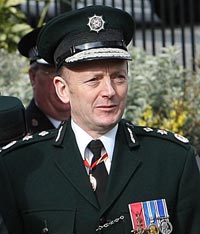 PSNI Chief Constable Hugh Orde has announced that 299 of the 660-strong PSNI Reserve will be let go over the next 18 months but that the reserve will be retained for deployment on security duties such as guarding buildings.
The retention of the reserve has been criticised by Sinn Féin Policing Board member Alex Maskey.
The South Belfast MLA said that keeping the reserve in existence is wrong.
"This regrettable decision to retain the reserve for another two  to three years, is one which will be questioned by many," he said.
"The implementation of the Patten proposals are about delivering good community policing and this move is in direct contravention of these recommendations."
DUP MOTION
In response to a DUP motion in the Assembly urging the plan to be delayed until the outgoing chief constable's replacement is appointed, Alex Maskey said:
"We were told unreservedly by the chief constable and his entire team that the decision to phase out the full-time reserve would go ahead and all of that could be accommodated notwithstanding any potential security threat.
"We were told that many of these officers are spending a lot of their time, 61% of the time of these officers, guarding stations, a number of which are redundant, closed  – they're not even in public use!
"My opposition to the motion is very simply rooted in the position that we don't need this complement of officers."
Sinn Féin's Martina Anderson pointed to the criminal records of members of the police reservists in colluding with loyalists in murders and in the sectarian murder of Portadown Catholic Robert Hamill.