18 June 2009 Edition
Post-election blues and other fables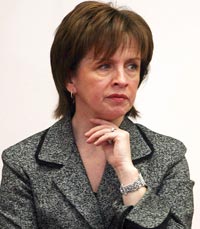 BY LAURA FRIEL

IMPLOSION, free-for-all, blind panic – these are some of the words used by the media to describe the political state of play following last week's elections.
The Democratic Unionist Party was putting on a brave face and promising changes after its candidate not only failed for the first time in 40 years to top the poll but also presided over a staggering 50% fall in the DUP's share of the vote. Five years ago, during the last European election, the DUP had polled just under 176,000 votes; this time it managed less than 89,000.
Speaking on BBC Radio, DUP leader Peter Robinson indicated "big changes" within his party which would see different DUP names being put in senior positions.
In an attempt to address the impact of the Westminster expenses debacle, in which both Peter and Iris Robinson had become embroiled, the DUP leader mooted an end to individuals holding more than one elected position at any one time.
As for Iris, having failed to secure unionism's religious fundamentalist heartland for the DUP by her repeated homophobic outbursts, the First Minister's wife will be focusing on her Westminster duties rather then her role as an MLA.
Meanwhile, the Ulster Unionist Party (now the reconstructed Ulster Unionist and Conservative Party since it kissed and made up with the British Tory Party last year) was making hay while the sun was still shining on the DUP's misfortunes.

NO PACTS

Speaking to the unionist daily News Letter, UUP leader Reg Empey ruled out electoral pacts with other unionists in any forthcoming elections. Empey said he did not believe that such a pact, even if it secured the seat for a unionist, was in the long-term interests of the Union.
Despite the fact that the UUP has been knocked off its perch by the DUP, the UUP continues to see itself as the natural powerbroker in the North. For Empey, the perceived long-term interests of the Union are inexplicably linked to the long-term interests of the UUP.
A formal electoral pact, such as the DUP has repeatedly offered, would consolidate rather than challenge the UUP's arch-rivals for the unionist crown. The UUP would rather sup with the devil – or in this particular case with anti-Agreement maverick Jim Allister and his Traditional Unionist Voice.
Empey was more than happy to provide the News Letter with the headline they wanted most: "DUP to blame if McGuinness becomes the next First Minister". The DUP had created a "nightmare" for unionism but the UUP were "bouncing back" while the DUP were in a "blind panic" at the prospect of facing a Westminster election in the near future. There was "no constituency left in Northern Ireland which is a safe DUP constituency". The DUP were now "betwixt and between" the UUP and TUV.
It was left to Alex Kane, UUP spin-doctor and News Letter columnist to mull through some of the contradictions and drive the message home.
"Allister will be king-maker in a number of seats and his votes could cause the DUP to lose to either the UUP or TUV," said Kane.
But such a scenario is "potentially very messy and divisive" and "the next two or three elections have all the makings of a free-for-all within unionism which does nothing more than increase the number who don't bother voting", said Kane.

PILING ON THE AGONY
Meanwhile, Jim Allister was piling on the agony for the DUP by announcing plans to contest Ian Paisley's seat in any forthcoming election. It is unclear whether Allister would be facing Paisley Senior or Junior. In his eighties, Ian Paisley Snr had planned to retire from his Westminster seat but that decision might now change.
News of Allister's intention to contest the seat was greeted by the Paisleys with predictable derision. He was welcome to "come and get a hiding" in north Antrim, said Paisley Snr. But Allister appeared unperturbed by such a prospect.
"He spent his life boasting about, never, never, never and ended up giving us the famous chuckle routine," said Allister.
But never mind the unionists; the Sunday Tribune was predicting an implosion within Sinn Féin.

FRACTURED REPORT
In an article entitled "The partitioning of Sinn Féin", political commentator Justine McCarthy attempts to identify an ideological fracture within Sinn Féin between traditional nationalists and socialists, or is it traditional socialists and nationalists?  Or is it, as an accompanying graphic depicts, tension between the "green corner" and the "orange corner" (whatever that means!).
Anyway, at least one thing is for sure: McCarthy comes out strongly against Armani suits. Or does she? No, she doesn't. Even that old chestnut is conveyed to the reader via an anonymous "disillusioned party source".
McCarthy begins by accusing Sinn Féin of having an ambiguous relationship with "the dissidents" but it's the article and not Sinn Féin whose attitude is ambiguous. McCarthy is eager to fuel her anti-republican agenda by recourse to anything, including so-called dissidents. How else can we understand her inclusion of a Real IRA statement within the body of her argument?
The statement implies that Sinn Féin's electoral strategy is commensurable to "collaborating with the enemy". It's a theme enthusiastically taken up by McCarthy herself, well almost herself, mostly through the smoke and mirrors of non-attributed sources and anonymous quotes.
But McCarthy's contribution does at least offer one clear insight. If anyone had any doubt concerning the role currently being played out by the so-called dissidents, McCarthy's promotion of their position should dispel it.
The 'dissidents' are operating as a classic counter-gang. Their main focus is about damaging the republican project and that is the only reason Sunday Tribune journalists, like McCarthy, are keen to take up their baton and run with it.
It was left to Sinn Féin's Eoin Ó Broin writing in The Irish Times to inject some realism back into the post election debate. Did Sinn Féin have a good or bad election on June 5th? "Both is the honest answer," said Ó Broin.
"We went into this latest election with 51 city and county council seats and came out with 54. We made important breakthroughs in Limerick, Wicklow, Cork, Tipperary and Kilenny. Our European vote was up overall and up significantly in the South and East constituencies. Crucially, our vote across the state, in real and percentage terms, was up on the poor performance in 2007," said Ó Broin.
But while many people heard Sinn Féin's message and were open to our call for change, "we failed to close the deal with many".
"Clearly Sinn Féin has more work to do in convincing people that the need for a politics without Fianna Fáil or Fine Gael is in the best interests of all," said Ó Broin.
And, of course, in another historic milestone, Sinn Féin's Bairbre de Brún topped the polls in the North.
AGONY: Jim Allister enjoys the pain of the DUP and hears the success of Sinn Féin