18 June 2009 Edition
Calls grow for Inquiry as Shell accused of sinking fishing boat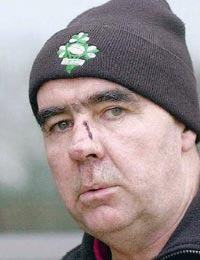 GOVERNMENT Minister, Fianna Fáil' s Éamon Ó Cuív, has joined the growing calls for a full investigation into the sinking off the Mayo coast last week of a boat owned by Pat O'Donnell a member of the Erris Inshore Fishermen's Association (EIFA).
Shell Ireland (SEPIL) has denied accusations that its employees were involved in the sinking of the Iona Isle.
The EIFA has signed up to an agreement with Shell EP Ireland to facilitate the laying of the controversial Corrib gas offshore pipeline. The agreement includes a clause that Shell will ensure that no produced water should be discharged from the outfall pipe at Glengad. But Pat O'Donnell, skipper of the Iona Isle and a Shell to Sea campaigner, still has concerns about the impact of the refinery discharge pipe on the marine environment and is not a party to the deal.
Describing the incident O'Donnell says that he and another man Martin McDonnell, were on the boat when four masked men in wet suits, two carrying guns, boarded and proceeded to inflict enough damage to the boat, that it sank.
Sinn Féin TD Martin Ferris has called for an independent investigation into the circumstances surrounding the sinking of the fishing boat. Ferris said the masked men had Eastern European accents and locals believe that they were working for Shell.
"Locals in Mayo believe that these men were working on behalf of Shell who are attempting to impose a gas pipeline in the area against the wishes of the local community. This incident comes just a week after Shell was ordered to pay out €9.5million for their part in the hanging of environmental activists in Nigeria who were standing up for their community and opposing Shell's actions.
"There must be an immediate independent investigation into this attack on these fishermen. The community has lost faith in the independence of the Gardaí on matters in which shell is suspected of complicity."
Chief Superintendent Tony McNamara has confirmed the gardaí are investigating the attack.