18 June 2009 Edition
Cowen leadership - what leadership?
The failure of Brian Cowen's government's to immediately abolish ministerial pension payments to sitting TDs is a stark illustration of just how little influence the Taoiseach seems to have over his own TDs.
That he exerts so little influence over Fianna Fáil members in the Dáil is bad news for the country. Despite a disastrous election for Fianna Fáil which in effect withdrew the current government's mandate, the Taoiseach and his TDs remain disconnected and arrogant in their approach to how they govern and reward themselves for this work.
At a time when the lowest paid are being hardest hit by increased taxation and cutbacks in public services imposed by the government, it is astounding that the Taoiseach and his cabinet believe it is OK to continue double-paying some TDs until the next general election.
An Phoblacht Magazine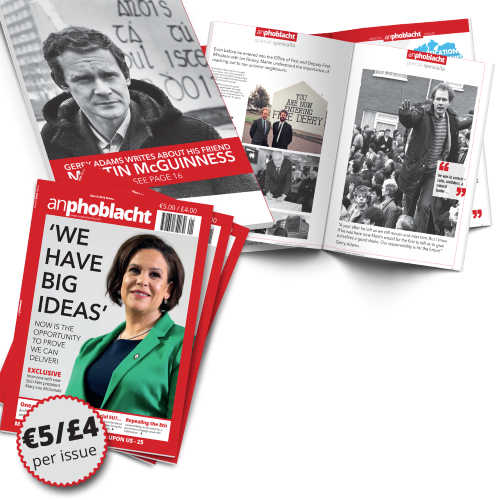 AN PHOBLACHT MAGAZINE:
The first edition of this new magazine will feature a 10 page special on the life and legacy of our leader Martin McGuinness to mark the first anniversary of his untimely passing.
It will include a personal reminiscence by Gerry Adams and contributions from the McGuinness family.
There will also be an exclusive interview with our new Uachtarán Mary Lou McDonald.
test