18 June 2009 Edition
The Mitchel McLaughlin Column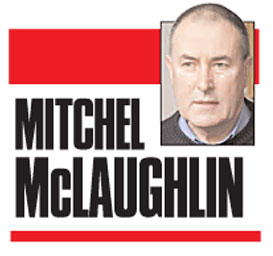 State motor insurance provider needed to drive out rip-off premiums
WE REGULARLY hear consumers on talk programmes and in letters pages of the print media complaining about the high cost of motor insurance in this country compared to Britain and elsewhere in Europe. Sinn Féin has called for the establishment of a state insurance company similar to those operating in a number of Canadian provinces as well as parts of the United States, New Zealand and Australia. I believe that in the present economic climate it is an issue that should command serious consideration by both the Assembly and Oireachtas
Private sector motor insurance premiums in this country are exorbitant and bear little resemblance to the experience elsewhere. A state motor insurance corporation would ensure that affordable motor insurance is available to every driver regardless of age, sex or marital status.
Young drivers in particular are disadvantaged as they are forced to pay unrealistic car insurance premiums while insurance companies make their greatest profits from the 19 to 24-year-old age group.
Far too often, insurance companies quote premiums that are in excess of what the car cost. I am personally aware of a young person being quoted £2,400 to insure a ten-year old 1-litre car which they bought for £1,000! This is unacceptable.
Premiums should be based on driving record, not age, sex or marital status and should more closely reflect the replacement price of the vehicle. The present private insurance system discriminates against many drivers, thereby contributing to the large number of uninsured drivers on the roads and the increased threat to other road users.
The Oireachtas and the Assembly should consider taking car insurance out of the private sector and establish their own insurance corporation modelled on existing state companies in North America, New Zealand and Australia. It would be more beneficial if the respective ministers explored a joint venture that would cover the entire island.
These companies have proven their viability and contribute in many ways to road safety by helping to fund road safety initiatives, subsidising safer driver courses for school-leavers and reforming the legal system by eliminating most of the litigation aspects of compensation through a system of 'no fault' claims.
According to the Consumers' Association of Canada, insurance rates charged in those provinces operating state insurance companies are considerably lower than those where private companies provide the insurance.
We have witnessed the consequences of an unregulated banking sector; we should not wait until the insurance companies create a similar scenario before we act to bring the industry under control.
Governments should intervene directly now. It is time they took on the greedy profiteering of the insurance companies and acted on behalf of the drivers of Ireland.

An Phoblacht Magazine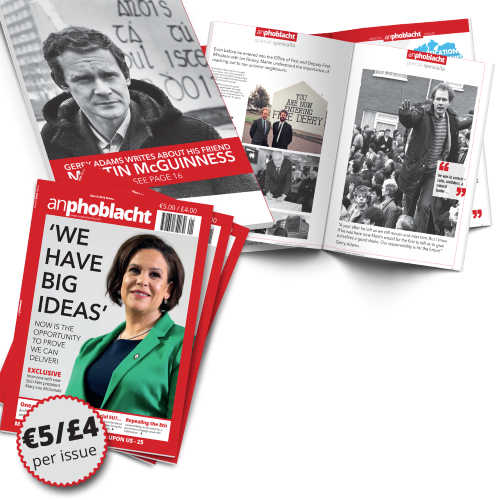 AN PHOBLACHT MAGAZINE:
The first edition of this new magazine will feature a 10 page special on the life and legacy of our leader Martin McGuinness to mark the first anniversary of his untimely passing.
It will include a personal reminiscence by Gerry Adams and contributions from the McGuinness family.
There will also be an exclusive interview with our new Uachtarán Mary Lou McDonald.
test