18 June 2009 Edition
More must be done to stop race hate attacks
THE despicable attacks on members of the Romanian community in south Belfast in recent days and the attacks against people attending an anti-racism protest in the Lisburn Road area on Monday are to be utterly condemned. Those families who have been attacked need the support and the solidarity of the community and its political representatives in the time ahead.
A multi-agency meeting to discuss short-term and long-term solutions to the current crisis facing the Romanian community in Belfast took place on Wednesday.
At that meeting Sinn Féin representatives put forward proposals to provide short-term welfare assistance to those families subjected to racist intimidation. The response from all the agencies at Wednesday's meeting to the very immediate crisis facing the Romanian community is encouraging.
Race-hate crime in south Belfast has increased in the past six months and worryingly the clearance rate, that is crimes resolved or brought to prosecution, is currently sitting at only 9.9%. This is obviously unacceptable and more must be done to ensure ethnic minority communities in Belfast feel safer.
Those responsible for these attacks and the intimidation of any minority group must be brought before the courts. Anyone with information regarding the attacks should bring it forward to the PSNI immediately.


An Phoblacht Magazine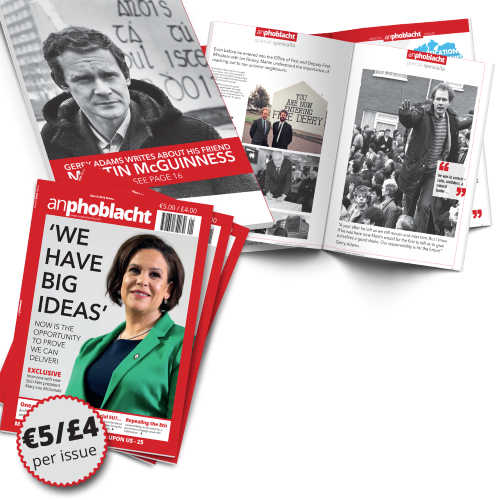 AN PHOBLACHT MAGAZINE:
The first edition of this new magazine will feature a 10 page special on the life and legacy of our leader Martin McGuinness to mark the first anniversary of his untimely passing.
It will include a personal reminiscence by Gerry Adams and contributions from the McGuinness family.
There will also be an exclusive interview with our new Uachtarán Mary Lou McDonald.
test