4 June 2009 Edition
Remembering the Past: Michael Gaughan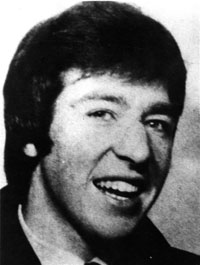 By Mícheál Mac Donncha
The new phase of the Irish freedom struggle which began in 1969 saw Irish republicans imprisoned in all three jurisdictions – the Six Counties, the 26 Counties and in England. While all prisoners endured harsh conditions, the prisoners in England faced isolation from their comrades and their families and were at the mercy of the most hostile of prison regimes.
One of the first republicans imprisoned in England in that period was Michael Gaughan of Ballina, Co. Mayo. Born in 1949, he was the eldest of six children. While in England Michael Gaughan joined the IRA and was a committed and active Volunteer. He was arrested at Liverpool Station, London with three others in May 1971 and charged with an armed raid on a London bank.
For the raid and for possession of arms Michael Gaughan was convicted on 23 December 1971 at the Old Bailey, receiving a seven-year sentence. Thus began a two-and-half ordeal in the English prison system that would end with the death of the young republican.
Michael Gaughan was first committed to Brixton Prison where he was treated as a criminal and was refused political status. He was transferred to Wormwood Scrubs and then to Albany. Republican prisoners in the Six Counties, both internees and those convicted in the courts, had won political status but this was denied to the prisoners in England.
Following the escalation of the IRA's campaign in England in 1973 more republicans were committed to English jails. Four of them  – Gerry Kelly, Hugh Feeney and sisters Dolours and Marian Price – went on hunger strike for repatriation to Ireland.
The British government in Ireland had discontinued the practice of force-feeding hunger strikers following the death of Thomas Ashe in 1917 but the brutal practice was revived in England in 1973/74. After Michael Gaughan, fellow Mayo man Frank Stagg and Paul Holmes joined the hunger strike on 31 March 1974, they were moved from Albany to the hospital wing of Parkhurst Prison on 10 April. It was there that they were force-fed by prison warders and doctors who were supposedly entrusted with the healthcare of prisoners.
On 2 June an especially brutal force feeding session resulted in damage to Michael Gaughan's lung. He contracted pneumonia and died the next day. He said in a last message:
"I die proudly for my country and in the hope that my death will be sufficient to obtain the demands of my comrades. Let there be no bitterness on my behalf but a determination by all to achieve the New Ireland for which I gladly die. My loyalty and confidence is to the IRA and let those who are left carry on the work and finish the fight."
Michael Gaughan's funeral saw thousands of people turn out to pay their respects in London as the procession, including an IRA guard of honour, passed through the Irish districts of Kilburn and Cricklewood. On arrival at Dublin Airport the coffin was draped in the Tricolour that had draped the coffin of hunger striker Terence MacSwiney who, like Michael Gaughan,  died in an English prison in 1920. Thousands more turned out across Ireland along the route to Ballina where the young Mayo man was laid to rest.
Michael Gaughan died at 7.30pm on Monday 3 June 1974, 35 years ago this week.
An Phoblacht Magazine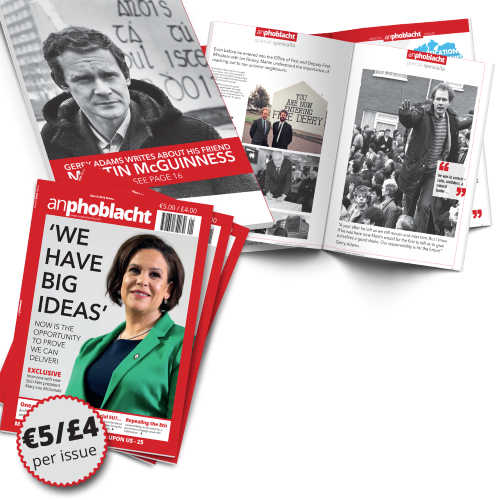 AN PHOBLACHT MAGAZINE:
The first edition of this new magazine will feature a 10 page special on the life and legacy of our leader Martin McGuinness to mark the first anniversary of his untimely passing.
It will include a personal reminiscence by Gerry Adams and contributions from the McGuinness family.
There will also be an exclusive interview with our new Uachtarán Mary Lou McDonald.
test