4 June 2009 Edition
Deputy First Minister joins Mac Lochlainn for final push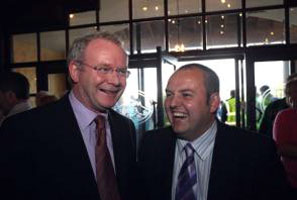 BY JOANNE SPAIN
SINN FÉIN Deputy First Minister Martin McGuinness joined the party's EU election candidate Pádraig Mac Lochlainn for the final few days of campaigning in the North West constituency in advance of Friday's poll. McGuinness was joined by fellow Executive Minister Gerry Kelly on the campaign trail.
Speaking from the constituency on Wednesday McGuinness said:
"Throughout the past three weeks I have been across different parts of the North West constituency. I have to say the response that Pádraig Mac Lochlainn and the teams of local candidates are getting on the doorsteps has been very positive. There is no doubt Pádraig is in the hunt for an EU seat.
"Experience tells us that the final few days will be crucial. We will be out there trying to convince those as yet undecided to put their faith in the Sinn Féin vision. Our record in relation to the Peace Process demonstrates what is possible when there is strong political leadership allied with popular support. I have no doubt that the Irish people want change. They want to see the economy rebuilt, new jobs created and crucially existing jobs secured.
McGuinness added that as the only party standing candidates in all of the Irish constituencies, Sinn Féin is uniquely placed to meet the economic and social challenges faced by citizens throughout the island.
"The distortion of the Irish economy by partition, its effects on border communities and the obscene amounts of public money being wasted on providing two health and education systems along with other public services needs to be faced up to and dealt with, especially in these difficult economic times," he said.
"So as we count down to polling day, Sinn Féin is out there in every Irish county battling for votes and transfers and working to ensure a strengthened Sinn Féin presence both in Europe and in local authorities across the state."