4 June 2009 Edition
THE JULIA CARNEY COLUMN
The IRA versus the Taliban
WHO would win, right, in a fight between the IRA and the Taliban? If the fanatics of Islamic fundamentalism met the "elusive, hard-hitting masters of Ireland's urban jungle" (begod) head to head, would it be a victory for the Republican Movement or a bunch of lads skulking around the Afghan mountains. And where, come to think of it, is the 'urban jungle' around Cullyhanna?
If, like me, you've never even imagined the question, you might be surprised to learn that a US television show has settled this great unanswered debate.
Deadliest Warriors takes figures or armies from history and sets them up against each other using a computer simulation and advice from weapons and strategy experts to determine who would 'win'. Previous episodes settled the question of whether a ninja was better than a Spartan (he's not), or a Samurai tougher than a Viking (he is).
Let the bells ring out with jubilation as the IRA emerged victorious in this bizarre little TV show, which might explain why the Taliban never got a foothold in Ardoyne. Curiously, according to this team of experts, the most commonly-used IRA weapons included slingshots and flamethrowers! I'm seeing 'D' Company now more as a group of arsonists who look like Dennis the Menace,
DUP MP Jeffrey Donaldson, needless to say, is not impressed.
"It may be seen as a bit of fun but young people are very impressionable, and it is wrong to glorify a terror group when countless people lost their lives."
One can only assume he's talking about a future episode where the British Army's Parachute Regiment get their asses handed to them on a plate by the Red Army. Might put a bit of a crimp in recruitment for their latest Arab-killing occupation.
 


AVERIL POWER is running for Fianna Fáil in the Howth-Malahide ward for the locals.
A former president of Trinity Students' Union, she has also worked as a special advisor for Minister Mary Hanafin where her pay packet was the not inconsiderable sum of €94,740. The Department of Social and Family Affairs are the ones who brought you the cutting of the Christmas bonus. At least we know the people who advised the minister to do so don't have to worry about their own Christmas.
Averil's husband is Fionnan Sheahan, the political editor of the Irish Independent, who is far too principled a journalist to let his wife's Fianna Fáil membership card explain his one-man vendetta against Sinn Féin's Mary Lou McDonald. After all, Mary Lou only poses the biggest threat to Fianna Fáil retaining their seat in Dublin in the European elections.
This week Fionnan made the discovery that the Sinn Féin siopa, which he wrongly states is located in Mary Lou McDonald's campaign headquarters (check your facts, Fionnan – they taught us that on day one) sells T-shirts with IRA slogans. He sticks in a quote from the reliably outraged Willie O'Dea, hardly someone to whom anyone would look for rational analysis.
I'm with The Beard on this one.
"I've been on the doorsteps here for close on three weeks," Gerry told the Independent. "People have raised with me the fact they are either out of work or fear being out of work. They have raised with me the possibility of their houses being repossessed.
"Everywhere people have talked about children being educated in prefabs — none of them talked about the merchandise on sale in the Sinn Féin bookstore."
Maybe so, Gerry, but writing about that would hardly help Fionnan's better half onto the council, would it?
But to show we're not all sly digs, a big míle buíochas from the siopa to Fionnan. The lads are glad of the advertising and we'll send out a T-shirt to you if you can plug us again.
 


ONE of the cardinal rules of journalism, or certainly reviewing or commenting on things, is not to write about something you've not seen.
It's one I normally abide by but deadlines and elections mean I'm writing this before I see Tuesday's TV3 documentary on the Corrib Gas project. I'm still fairly confident though that we can expect to see a bitter hatchet job on the Shell to Sea campaign and those most nefarious of creatures, republicans, as well.
How so confident? Well, instead of sending a business or environment journalist to do the piece or, come to think of it, a journalist, it's being handled by Paul Williams, Garda mouthpiece for the Sunday World. Expect ominous music, moodily-lit shots and a complete absence of any political analysis of the sale of our natural resources to dodgy transnational corporations with fairly dodgy human rights records.
And, to cap it off, the documentary is produced by Gerry Gregg, formerly of the avowedly anti-republican Workers' Party, and the man behind the embarrassingly biased four-hour documentary on the career of Dessie O'Malley in 2001. Viewers may remember the scene where O'Malley is depicted walking on water, or the famous image of him laying his hands on a small, crippled and blind orphan child... who grew up to be Batman.
There's an old saying that is supposed to define the job of a journalist, to sum up what our role is about. Put simply, it is to comfort the afflicted, and to afflict the comfortable.
Paul Williams and Gerry Gregg have made very successful careers out of comforting the very comfortable and putting the boot into the afflicted and those fighting alongside them. Their show on Corrib will be no different.

An Phoblacht Magazine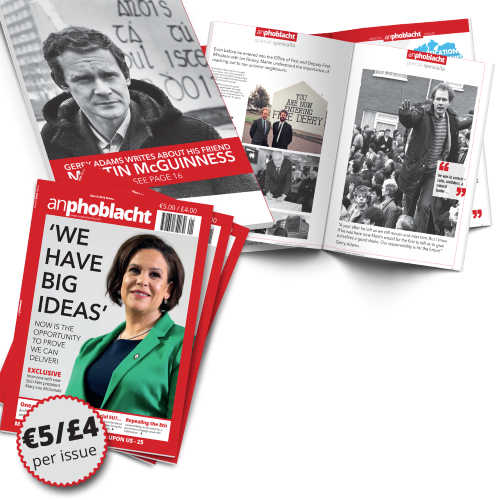 AN PHOBLACHT MAGAZINE:
The first edition of this new magazine will feature a 10 page special on the life and legacy of our leader Martin McGuinness to mark the first anniversary of his untimely passing.
It will include a personal reminiscence by Gerry Adams and contributions from the McGuinness family.
There will also be an exclusive interview with our new Uachtarán Mary Lou McDonald.
test