4 June 2009 Edition
The Mitchel McLaughlin Column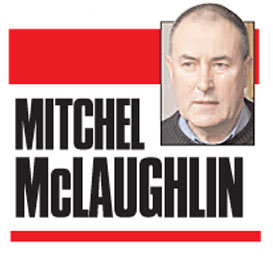 We must continue to build political strength
 AS An Phoblacht goes to print, the European election is taking place throughout Ireland. The results will be delivered across the country on Monday and I believe that Sinn Féin will see our share of the vote increase across the board. Regardless of how well we do in the European and local government elections and the Dublin by-elections, the job of building the party in every corner of the island will have to continue.
It is clear that there is a tremendous mood for change in Irish society and Sinn Féin must be seen to be listening to what the people are saying. A couple of elections ago we stood on the slogan 'Ready for Government'. Sinn Féin is already a party of government in the North but at the previous general election the southern electorate, perhaps seduced by the so-called 'Celtic Tiger', did not vote for that option on that occasion. But that was then, and following that election Sinn Féin embarked on a party-building process. We are now witnessing the positive results of that exercise and support for the party continues to grow.
I believe that the excellent work being carried out by our Executive Ministers and MLAs in the North, combined with that of our TDs, has contributed to the increased support across the country.  But we cannot take continued growth for granted.  We must redouble our efforts to attract new members in colleges, universities, trade unions, community groups, women's organisations, etc.
We must also ensure that, at future general elections, Sinn Féin elected representatives are seen to be capable and 'Ready for Government'.  This will be achieved by developing deliverable economic and social policies and aggressively selling their viability to the electorate.  These policies should be advanced on an all-Ireland basis in order to build further co-operation and harmonisation between departments and agencies in Dublin and Belfast and so that party policy can be pursued equally across the nation.
The all-Ireland economy is obviously a debate that is crucial to our political objectives. It is a battle for the hearts and minds of the people of Ireland and it must be won.
We must strive to harmonise government structures and services. An all-Ireland economy is needed to address the legacy of national dislocation resulting from partition which represents economic inefficiency, waste and injustice.
The focus needs to be firmly on bringing the island as one economic entity out of the financial crisis that we are now in.
This approach would be to the benefit of all and would address the crazy cycle experienced in the border regions for decades of taking turns at boom and bust.  We need a vibrant all-Ireland economy in which we can all share.
We must convince the sceptics of the potential of economic unity as the building block to political unity.
Sinn Féin has developed policies demonstrating that economic development and infrastructural reintegration delivered on an all-Ireland basis is the best way to create spatial equality throughout the island, leaving no region, particularly the west, north-west and border counties, underdeveloped.  That is the challenge that we must set for ourselves in preparation for future general elections.
An Phoblacht Magazine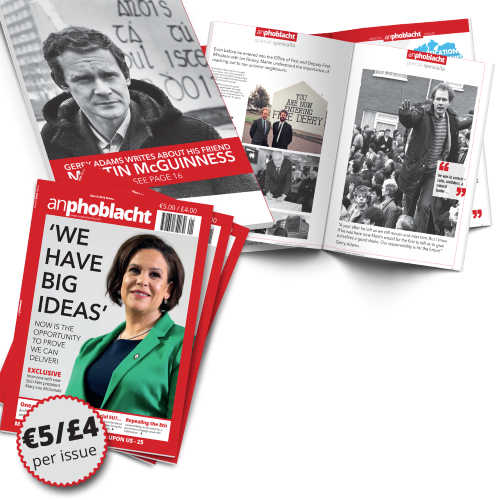 AN PHOBLACHT MAGAZINE:
The first edition of this new magazine will feature a 10 page special on the life and legacy of our leader Martin McGuinness to mark the first anniversary of his untimely passing.
It will include a personal reminiscence by Gerry Adams and contributions from the McGuinness family.
There will also be an exclusive interview with our new Uachtarán Mary Lou McDonald.
test