4 June 2009 Edition
Fianna Fáil and Harney try to save Eoin Ryan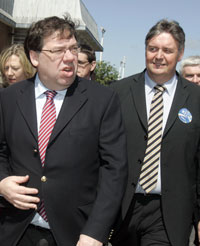 GERRY ADAMS has slammed attacks on Sinn Féin by Foreign Affairs Minister Dermot Ahern during the election campaign, accusing him of insulting republican voters.
Over the weekend, Fine Gael's director of elections  Frank Flannery said his party would be prepared to work with Sinn Féin in a future coalition government. Dermot Ahern – who was later joined by Progressive Democrats former leader Mary Harney in trying to rescue Fianna Fáil MEP Eoin Ryan's floundering campaign from a strong challenge by Mary Lou McDonald  – described the idea as "stomach-churning".
Gerry Adams hit back, describing the Fianna Fáil minister as engaging in "cynical politics at its worst". Adams pointed out that Dermot Ahern thought it was okay to work with Sinn Féin on the All-Ireland Ministerial Council and the Good Friday Agreement.
He also dismissed comments by Fine Gael leader Enda Kenny which contradicted his director of elections. And Health Minister Mary Harney, who intervened in the Dublin EU campaign to plead for support for Fianna Fáil's struggling MEP, Eoin Ryan, also got short shrift from the Sinn Féin leader.
"Sinn Féin has no interest in the politics of Dermot Ahern, Enda Kenny and Mary Harney. In the midst of a deep economic crisis these people are out talking nonsense.  
"Fianna Fáil has an absolute cheek trying to distract voters from their record in government.  And Dermot Ahern, in particular, should be deeply ashamed about his comments and retract them.
"Fianna Fáil and the Greens have presided over a record rise in unemployment. They have stood back as pension schemes have been drained, as people watched their homes sink into negative equity and threatened with repossession. They have let us come close to bankruptcy and all the while sought only to protect themselves, the banks and their friends in the property world.
"They don't want to talk about people's job security and their right to have homes, a decent health service, a functioning education system. Sinn Féin will debate real politics with anybody at anytime but we will not engage in charades designed to con the voters."
Sinn Féin's message is that there is hope for the future of this country, Gerry Adams said.
"The economy can be turned around. Now is the time when you can have your say. Now is the time to fight back and reclaim this country from those who have caused it so much damage. The most effective way to do that is to cast your vote for Sinn Féin candidates."
HARNEY A FAILED MINISTER
Meanwhile, Dublin MEP Mary Lou McDonald said Mary Harney's endorsement of Eoin Ryan was no surprise.
"Let's remember what Mary Harney, like Fianna Fáil, stands for: a two-tier health service, an A&E crisis, the abandonment of local services, misdiagnosis and, perhaps most shameful of all, she is the minister who deemed it right to backtrack last year on her commitment to deliver a cervical cancer vaccine to young girls.
"Brian Cowen and Mary Harney's government is responsible for a level of soaring unemployment not seen since the 1980s. Sinn Féin was the first party to deliver a comprehensive job retention and creation strategy. Instead of leading the way in innovation and job creation the minister and Taoiseach retreated right back into their cozy golden circles to protect the interests of the banks and developers, saddling the Irish taxpayer with decades of debt.
"Mary Harney is the embodiment of this shamed and shambolic government. She is a failed minister of a failed government who has willfully failed the people of this state.
"Unlike the minister, I can stand over my record as a public representative with my head held high. I make no apology for taking maternity leave during my term as an MEP.  I also make no apology for being a woman in politics or a working mother. I have worked hard for the people of Dublin and fought for their interests in Europe. There is no place in Ireland or Europe for Fianna Fáil and Mary Harney's failed policies of privatisation and deregulation.
"Things can be sorted out but it's over to the voters now. They need to turn their anger into action. The people need to stand up and say enough is enough, we do not have to take this anymore. Vote for change on June 5th, vote for Sinn Féin."