4 June 2009 Edition
GAZA: Looking back at the Convoy of Hope taking medical aid and supplies to besieged Palestinians
A journey of hope yet to be fulfilled
BY GERRY Mac LOCHLAINN
Derry Sinn Féin Councillor

IT IS Saturday 30 May and I am at home in Derry, thinking about the past number of weeks as the Convoy of Hope for Gaza struggled to get the medical equipment ashore at Port Said and then across the Rafah Crossing point.
Once in Gaza, the next four days were even more exhilarating and devastating as we struggled with the emotions of relief at getting the medical aid in to horror at the scale of destruction and ongoing suffering being endured by men women and children in what has to be described as the world's largest prison.
On arrival we were greeted by crowds of cheering people lining the roads of Gaza from Rafah to Gaza City.
Our first morning started with a visit to Shifah Hospital, the largest in Gaza. Here we met the senior doctors and medical staff who explained the reality of the blockade imposed by Israel which leaves them without adequate medicine, equipment or even basic disposables such as needles.
We were delivering the largest amount of aid to this hospital and the doctors were eager to get their hands on the ambulances, drugs, disposables, wheelchairs and dialysis machine that we had brought from so many countries in Europe. As deputy leader of the convoy I joined convoy leader Italian Senator Fernando Rossi, at the teeming press conference in the hospital grounds.
From the Shifah hospital we travelled to the remains of the parliament building destroyed by the Israelis during the invasion. Here we were greeted by a number of MPs in a tent dedicated to a minister who was assassinated by the Israelis during the invasion. They told us of the numbers of MPs, including the Speaker of the parliament, who were rounded up and taken to Israeli jails at the same time. It was clear that the invasion was directed at the political and social structures of Gaza to make the area ungovernable in order to overthrow what was a democratically-elected government.
This was further illustrated in the next few hours as we were escorted through the scenes of destruction in the north of Gaza and saw the sheer scale of the punitive blitzkrieg launched by Israel. Here we saw homes, government buildings, mosques and schools – all destroyed in wave after wave of Israeli air raids and rocket attacks. Scores were killed.
One of the Palestinians accompanying us said to me:
"You can understand them destroying a bulding but why did they bomb the same buildings over and over again, completely obliterating them? There is almost something psychotic about that behaviour."
That evening, our group was invited to meet the Cabinet and we were joined by Prime Minister Ismail Haniya, his first public appearance since the Israeli invasion. He welcomed us on behalf of the Gazan people and expressed his hope that we would attest to what we had seen and heard and intervene with our governments to get them to support the removal of the blockade.
Wednesday 26th and we were taken to a very emotional meeting with the relatives of prisoners held in Israeli jails and two men who had been just released.
The stories we heard were very hard to listen to – families who were not allowed to see their sons because the blockade bans them from travelling out of Gaza to visit their loved ones. Some of the families had not seen their sons, fathers or brothers for many years and in some cases fathers had died at the hands of the Israelis without ever seeing their sons. Inside the jails, the accounts of appalling abuse of prisoners reminded me of the worst days of the English jail experiences or the Blanket protest.

HOSPITAL STARVED OF SPARE PARTS
We next visited, Khan Yunis, a town south of Gaza city. Our destination was the main hospital for the south of the Gaza Strip to deliver more medical materials.
Here we saw advanced medical equipment that cannot be used because the Israelis will not allow spare parts in to bring them back online. We saw patients receiving dialysis who could only get two-hour sessions at a time which was not enough to clean their systems and so they never felt well and did not benefit as they should.
The doctor said to me: "It is the best we can do, we have to share the access but we need to give them four-hour sessions at least – we are only slowing the poison."
Later we met with the commission collecting evidence of Israeli war crimes during the recent invasion.
Here we met the Samouni children who had survived an appalling attack that had killed some 29 members of their families and wounded another 70-plus. They were driven from their homes by Israeli troops and then rounded up in a house that was shelled. One little girl, Mouna, told us of losing six members of her immediate family. As they huddled in the house, she explained, the family thought it was raining as water began to run into the house but then they discovered the Israeli troops had shot all the water barrels on the roof. Then three missiles were fired into the house. "They exploded my mother's brain," she said.

SOFTWARE FOR SCHOOL
The next morning we had another meeting with UNWRA (United Nations Relief and Works Agency for Palestine Refugees in the Near East) and delivered some £40,000 worth of software to their school for the visually impaired. The staff at this school explained how this software will allow blind people to use computers and help children with visual impairment attend school and possibly even transfer into mainstream schools and go on to live as complete lives as possible.
Our final visit before heading back to the Rafah crossing was the most horrific for me as I saw both sides of humanity in the starkest contrast. Just 200 metres from the Israeli border we visited the main rehabilitation hospital which seeks to treat patients suffering from coma or disabling conditions.
This hospital was itself shelled by Israeli troops despite being clearly marked and under constant Israeli surveillance. They shelled the newly-completed wing that was due to open in January of this year, destroying it before a single patient could avail of its facilities. A rocket had been fired directly into an occupied ward in an operational hospital. I looked at a ward where two nurses were killed carrying a post-operative patient, and then I met a young boy of about 10 years.
I heard this young boy was dragged from the rubble of his home where all his family had been killed. He was in a coma and had come out of the coma to some extend but still had chest and body injuries. The hospital did not have the supplies to treat him and he was not allowed out of Gaza for treatment elsewhere. The doctor said to me, as I stroked his face, "We cannot do any more - he is waiting to die."
The Hope for Gaza convoy delivered some hope for some but people need more than hope.  They need action. Lift the blockade!
BLOCKADE BANS: Families can't visit their fathers and brothers in jail 
An Phoblacht Magazine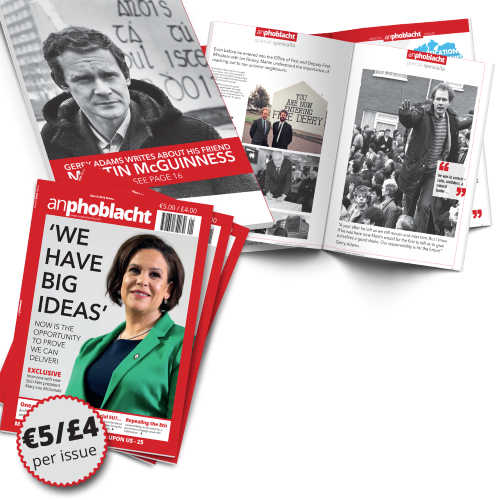 AN PHOBLACHT MAGAZINE:
The first edition of this new magazine will feature a 10 page special on the life and legacy of our leader Martin McGuinness to mark the first anniversary of his untimely passing.
It will include a personal reminiscence by Gerry Adams and contributions from the McGuinness family.
There will also be an exclusive interview with our new Uachtarán Mary Lou McDonald.
test