4 June 2009 Edition
Cowen's head in sand over crisis and elections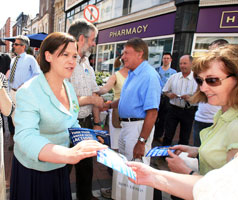 TAOISEACH Brian Cowen has his head in the sand in relation to the economy and the elections, Gerry Adams said during an election walkabout on Grafton Street in Dublin on Tuesday with Mary Lou McDonald MEP.
"The economy has been in freefall for a year now," the Sinn Féin leader said.
"200,000 people have lost their jobs, hundreds of thousands more have had their wages cut and viable businesses are going to the wall because the Government hasn't sorted out the banks. We've tried it his way; it didn't work. The only thing that will help turn around the country is a complete change of leadership. The Taoiseach knows this and the public know it too.
"This government is out of time and out of ideas.
"Sinn Féin put forward a detailed jobs retention plan in March that would save 90,000 jobs and create many more. We are listening to the voters, listening to businesses and coming forward with positive proposals.
"People want to see a general election and it is clear that 5 June can build momentum towards making that happen."
SWING TO SINN FÉIN
Gerry Adams said that there has been a clear swing towards Sinn Féin in recent days.
"We are fighting for three European seats – Pádraig Mac Lochlainn in the North West, Toiréasa Ferris in South and Mary Lou McDonald in Dublin.  People know that the fight in Dublin City is between Mary Lou and Fianna Fáil for the third seat. And I believe people will vote across party lines to ensure that Mary Lou is elected.
"In Dublin Central, Christy Burke is neck and neck with Fine Gael. There is a mood for change in this country and Sinn Féin is to the fore in people's minds as the party that can bring it about.
"We can assume that Fianna Fáil attacks will intensify as they become more desperate over the next couple of days."