4 June 2009 Edition
Copenhagen 'can be historic opportunity or suicide pact'
BY EMMA CLANCY
THE countdown has begun to the crucial Copenhagen UN climate summit in December, which is aimed at creating a new global, binding agreement on carbon emissions to replace the Kyoto Protocol after 2012. Kyoto, which was signed in 1997 and came into effect in 2005, commits signatories to an overall reduction target of five per cent on baseline 1990 levels by 2012.
Sinn Féin MEP Bairbre de Brún has been extremely active on the issue of climate change in the European parliament and has been a member of Parliament's Committee on Climate Change. Bairbre and fellow Sinn Féin MEP Mary Lou McDonald have argued for a long-term co-ordinated strategy to "map out how Climate Change needs to be arrested sector-by-sector".
The EU has a vital role to play at Copenhagen in ensuring that an agreement will be truly global; base emission reduction targets on science; propose a strategy to achieve these targets that is effective, monitored and enforced. Currently the EU's potential to play such a positive role is held back by governments tied to the 'greenhouse mafia'.
These governments seem to be living in a fantasy land where the past two years worth of scientific research on the impact and pace of climate change haven't happened. They are basing everything, including their proposed emission reduction targets, on a seriously outdated 2007 UN Intergovernmental Panel on Climate Change 2007 report (which the IPCC itself says is outdated).
Tipping point
Internationally, scientists agree that we must aim to limit warming to no more than 2C in order to prevent runaway climate change. The climate can change very rapidly if certain "tipping points" are crossed. One tipping point is the melting of the Arctic ice cap, which has halved in size. When the Arctic sea ice melts it will no longer reflect the sun but the water will instead absorb heat, increasing the melting pressure on the Greenland ice sheet and causing sea levels to rise.
Scientists led by the world's leading climatologist, NASA's James Hansen, have now warned that global warming is occurring at a much faster pace than previously believed. They said the loss of the entire Arctic ice cap appears to be inevitable and that there is a 75 per cent chance that it may occur as early as 2013 – a full century before the IPCC predicted in 2007.
As a result of such tipping points, a warming of 1C can very quickly become 2C. This will then trigger new tipping points, leading to a runaway warming of 4C, 6C and higher. If this happens most ecosystems on Earth would collapse. Most of the world's coastal cities would be underwater and fresh water sources for billions of people would disappear.
The overall emission reduction targets the EU will push for in a new global agreement are 30 per cent on 1990 levels by 2020 and of between 50 and 80 per cent by 2050. These targets, while better that those proposed by several other states, are based firmly on the conservative targets raised in the UN IPCC 2007 report.
But the laws of nature and science cannot be bargained with, stalled or bought off. Emission reduction targets must be based on science if we are to prevent runaway climate change, it's as simple as that, and the current proposed targets are inadequate.
The EU target under Kyoto was an 8 per cent reduction by 2012 but by 2005, it had only reduced emissions by 1.5 per cent.  Scientists believe an enforceable global annual reduction target of between 3 and 5 per cent is necessary to reach the adequate long-term targets in the next decades.
Market failure
Climate change has been described as "the greatest market failure in history" but the creation of a new market – for carbon - has been put at the centre of the EU's climate strategy through the Emissions Trading Scheme, which can only be described as a spectacular failure in terms of achieving its stated goals of reducing emissions and fuelling investment into renewable energy.
In theory, carbon trading is supposed to "price out pollution" by putting a price on carbon emissions. This is supposed to send a "market signal" to polluters to invest in renewable energy.
By creating this market, a new commodity – carbon – has been created, and like any commodity is open to speculation and profiteering, and boom and bust.
The results of this speculation can be seen in the collapse of the carbon market this year as a result of the global economic recession. Facing falling demand and profits, energy firms rushed to sell off the unused pollution permits allocated under the scheme to make up the shortfall. This has caused the price of carbon to plunge from a high of more than €30 a tonne in mid-2008 down to €8.2 now.
Instead of pricing fossil fuels out of the market, the collapse in the price makes them again the most profitable, cheapest economic choice and removes any incentive for investment into renewables.
This is not the first time the ETS carbon bubble burst. In its first phase in 2007, some of Europe's biggest polluters were given free "right to pollute" credits. They quickly sold the permits, driving the carbon price down to almost zero and making a nice profit in the process. A March 2008 study commissioned by the World Wildlife Fund estimated profits of between €23 billion and €71 billion would be made from carbon trading in the EU between 2008 and 2012.  
There is something fundamentally wrong – obscene – with a system in which the biggest polluters are being compensated and subsidised for all the hassle of slightly reducing their planet-destroying activities by public money.
The alternative to allowing private industry and the market to work its magic is to create an adequately funded, publicly owned renewable energy network based on solar, wind, and geothermal power throughout the EU. A massive expansion of public transport, plus energy efficiency measures such as the retro-fitting of houses could also make a significant contribution to emission cuts.
Poor pay the price
In a May report Kofi Annan's Global Humanitarian Forum (GHF) has warned that climate change is already causing 300,000 deaths a year in the global south and is "seriously affecting" 325 million people. Almost two-thirds of the world's population is now "vulnerable" to climate change, while 500 million are at "extreme risk," the report said.
The EU is using the recession to renege on its pledge under Kyoto of aid to the Third World to support these countries' adaptation to the deadly effects of climate change and limit their emissions as their economies grow. This is causing a major political rift between rich and poor states in the UN and threatens to derail a global agreement being reached at Copenhagen in December.
Rich countries have so far pledged US$18 billion in adaptation aid but less than $1 billion has been delivered. According to the UN, $50 to 70 billion a year needs to be invested immediately to help the poor countries adapt to extreme floods and droughts.
The EU portrays itself as a world leader when it comes to combating climate change. But it has a vital test to pass at Copenhagen – to take responsibility for its "carbon debt" and fulfill its obligations to the Third World, and to propose effective solutions to reduce emissions at the rate dictated by science.
The president of the Maldives islands Mohamed Nasheed, who said in March that he aimed to make his country the first carbon-neutral nation in the world within 10 years, said the world had an opportunity at Copenhagen to prevent catastrophe.
"Let's be very frank about this: Copenhagen can be one of two things," he said.
"It can be an historic event where the world unites against carbon pollution, in a collective spirit of cooperation and collaboration. Or, Copenhagen can be a suicide pact. The choice is that stark.
"My message to the world is simply this: please, don't be stupid."
An Phoblacht Magazine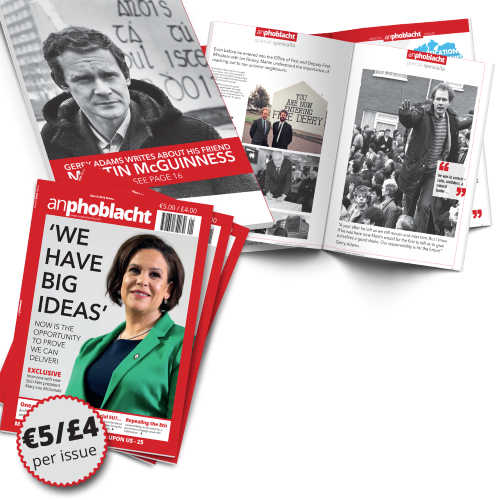 AN PHOBLACHT MAGAZINE:
The first edition of this new magazine will feature a 10 page special on the life and legacy of our leader Martin McGuinness to mark the first anniversary of his untimely passing.
It will include a personal reminiscence by Gerry Adams and contributions from the McGuinness family.
There will also be an exclusive interview with our new Uachtarán Mary Lou McDonald.
test