4 June 2009 Edition
Fight back - Vótáil Sinn Féin
Today and tomorrow is decision time in EU elections throughout Ireland.
Tomorrow people will vote in Local Government Elections across the 26 Counties and in two by-elections in Dublin. These elections will be seen as a verdict on the disastrous Fianna Fáil/Green Party government.
In the Six Counties Bairbre de Brún has presented voters with a clear choice – that of continuing to move forward politically or moving backwards to the divisions of the past.  Bairbre's campaign has been about a future based on partnership and progress and building new relationships – between unionist, nationalist and others in Ireland and within Europe.
In the 26 Counties in recent weeks there is a clear sense that we are witnessing a fight-back against government negligence and incompetence that has resulted in hardship and uncertainty for so many.
At these elections people have an opportunity to make a break with the politics of the past, the politics of failure.
The two main conservative parties who have dominated Southern politics for too long have run out of solutions and lack the ability to forge a new future for our country. Throughout the election campaign Sinn Féin has called for a left alliance which could build a better, fairer way forward.
Sinn Féin has demonstrated through its commitment to the Peace Process and in establishing and maintaining the North's power-sharing government and all-Ireland institutions that it can deliver for the people of Ireland.
The party was on the side of the Irish people during the Lisbon Treaty referendum and was shown to be correct in its judgement.
In recent days people have started to make up their minds and there is a perceptible swing towards Sinn Féin.
The party is strongly in the running in four EU constituencies – Bairbre de Brún in the Six Counties, Pádraig Mac Lochlainn in the North West, Toiréasa Ferris in South and Mary Lou McDonald in Dublin.
Christy Burke is in a head-to-head battle with Fine Gael in the Dublin Central by-election.
The fight in Dublin between Mary Lou McDonald and Fianna Fáil for the third seat has attracted major media attention. The prospect of Fianna Fáil failing to have an EU seat in the capital city would be seen as a major blow to Brian Cowen's government.
The intervention in the election of an array of conservative establishment figures who have attacked Sinn Féin shows their desperation to stop the party's advance in the South. But republicans have witnessed all of this before North and South and we have advanced nonetheless.
People who voted for Fianna Fáil in 2007 were utterly betrayed. They were lied to in relation to the economy and have every right to be angry. Now is the time to turn that anger into action at the polling booth. Voting for the same establishment parties will result in the same failed government policies.
Staying at home will change nothing. Now is not the time to give up hope. Now is the time to fight back and reclaim this country from those who have harmed its interests and betrayed its people.
This rotten government has to go. The most effective way to send that message loud and clear is to vote Sinn Féin.

An Phoblacht Magazine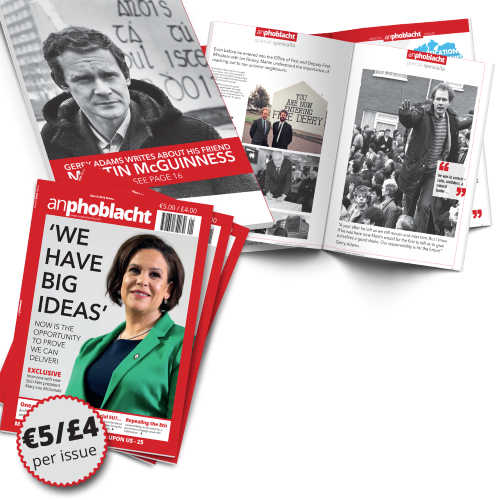 AN PHOBLACHT MAGAZINE:
The first edition of this new magazine will feature a 10 page special on the life and legacy of our leader Martin McGuinness to mark the first anniversary of his untimely passing.
It will include a personal reminiscence by Gerry Adams and contributions from the McGuinness family.
There will also be an exclusive interview with our new Uachtarán Mary Lou McDonald.
test