28 May 2009 Edition
Anger must be turned into action
WITH a week of campaigning to go in the EU and 26 County Local Government elections there remains huge anger at Fianna Fáil and the Green Party over their negligence and incompetence in government.
After four spectacular failures at getting the economy back on track, a complete reluctance to solve the banking issue, an inability to fix the jobs crisis, and most recently, the revelations of the Ryan report of an appaling lack of basic equality and justice in the state, many people are seeking change.
Sinn Féin has highlighted the alternative solutions that it offers. The party's policies on jobs, public finances, the banks, public services and many other issues have been well received.
The party has also called for a political alliance for change arguing that the dominance of two large conservative parties can be brought to an end if a new alignment in Irish politics is created.
Sinn Féin launched the final stage of its campaign on Wednesday with billboards, advertisements and new posters unveiled around Dublin. The party's message to voters is simple: You are right to be angry, but staying at home on 5 June will change nothing. Voting for the same establishment parties, expecting new policies, will achieve nothing either. People need to turn their anger into action and they can do that by choosing change and voting Sinn Féin.
An Phoblacht Magazine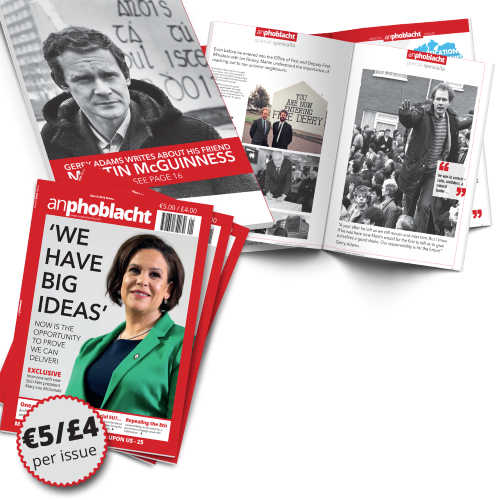 AN PHOBLACHT MAGAZINE:
The first edition of this new magazine will feature a 10 page special on the life and legacy of our leader Martin McGuinness to mark the first anniversary of his untimely passing.
It will include a personal reminiscence by Gerry Adams and contributions from the McGuinness family.
There will also be an exclusive interview with our new Uachtarán Mary Lou McDonald.
test