28 May 2009 Edition
Sectarianism must be confronted
The brutal sectarian murder of a Catholic father in Coleraine is a barbaric measure of the depth of sectarian hatred that still exists in our society.
Despite the huge progress of recent years, sectarian hatred continues to blight many areas in the North and unionist paramilitaries continue to orchestrate violent attacks on the nationalist community.
It is now time that unionist politicians lead by example and, through a clear commitment to a future based on partnership and equality, demonstrate that sectarianism and bigotry have no place in society.
The repugnant notion that the flying of the Irish national flag or an emblem of a football club can be an 'explanation' for violence and murder must be challenged.
Unionist political leaders must face down the sectarian violence emanating from within their community. They must also cease pandering to a sectarian ideology, which sees any manifestation of an Irish identity as an excuse for hatred and murderous violence.
Apparently the PSNI was aware that there was likely to be a loyalist attack on a nationalist area in Coleraine last Sunday and where that attack would take place. They even had the personnel ready and waiting but failed to intervene when the loyalist onslaught was launched. PSNI chiefs have serious questions to answer about their strategy, tactics and responses on the night that Kevin McDaid was murdered.


An Phoblacht Magazine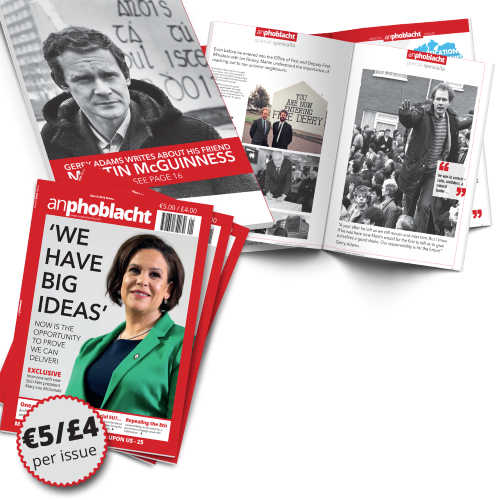 AN PHOBLACHT MAGAZINE:
The first edition of this new magazine will feature a 10 page special on the life and legacy of our leader Martin McGuinness to mark the first anniversary of his untimely passing.
It will include a personal reminiscence by Gerry Adams and contributions from the McGuinness family.
There will also be an exclusive interview with our new Uachtarán Mary Lou McDonald.
test