21 May 2009 Edition
Adams attends Palestine Solidarity AGM in Dublin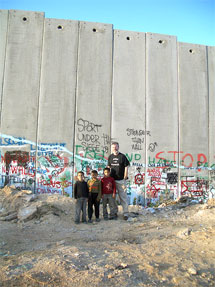 THE Ireland Palestine Solidarity Campaign's AGM in Dublin last Sunday was attended by Sinn Féin President Gerry Adams, recently returned from a fact-finding visit to Gaza, the West Bank and Israel.
One of the speakers at the AGM was Independent Leftist PLO Executive member As'as Abdul Rahman, whom the Sinn Féin leader met in Palestine only weeks ago.
Speaking afterwards, Gerry Adams said the situation in Gaza is so appalling that it cannot wait for negotiations to happen before action is taken.
"The siege of Gaza by Israel must end and the reconstruction work that has been prevented since the Israeli assault on Gaza ended in January must be allowed to begin immediately.
"The construction of settlements and the Separation Wall are illegal and in clear breach of international protocols and must stop.
"There needs to be an end to all armed actions and acts of violence."
DIALOGUE ESSENTIAL
The Sinn Féin leader said that, despite the obvious difficulties, his discussions with a wide range of Palestinian and Israeli opinion confirmed his view that a process of dialogue between all of the participants is essential for progress.
"Democratic mandates must be respected.
"I believe that a two-state solution which provides for the security and prosperity of Palestinians and Israelis, as well as national rights for Palestinians, can deliver a durable peace settlement."
He added that the international community has a huge role to play and a responsibility to use its influence to support a meaningful peace process that can deliver real change and hope for the people of the region.
"I am convinced that the overwhelming majority of Palestinians and Israelis want peace and stability and a better future."