21 May 2009 Edition
Loyalist gangster Shoukri fined £1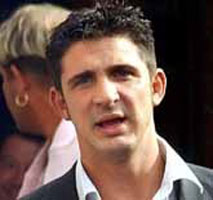 NORTH BELFAST Sinn Féin MLA Gerry Kelly has described the £1 fine imposed by Belfast High Court on former UDA leader Andre Shoukri last week as "beyond belief".
Shoukri, renowned for his life of crime and the lavish lifestyle it funded, is currently serving a nine-year sentence for the extortion and blackmail of a north Belfast bar owner.
The hearing followed a bid by the PSNI to seize assets worth £147,000, the value of a house purchased illegally by Shoukri in the loyalist Clare Heights estate.
The court accepted an assertion by Shoukri's lawyers that the man, who says he has gambled away over £1 million pounds, is now penniless. Shoukri was ordered to pay the nominal fine of just £1.
Gerry Kelly said after the judgment:
"No one will understand how Shoukri, a man who has been connected to an organisation renowned for extortion, racketeering and drug and vice-trafficking for many years, has been allowed to walk free from court with a single one pound fine.
"Most nationalists will look at this alongside the recent Criminal Justice Inspectorate report. The report shows the Public Prosecution Service is prosecuting more Catholics, more Catholics are being sentenced and even in jail Catholics are getting fewer privileges.
"The disparity between the harsh treatment of Catholics within the criminal justice system and the leniency meted out to this notorious loyalist paramilitary will not be lost on the nationalist community."