21 May 2009 Edition
Government let SR Technics be destroyed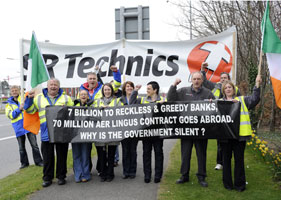 THE Fianna Fáil/Green Government must be held responsible for the loss of jobs at SR Technics, having failed to support viable plans or to take the operation into state ownership, Dublin Sinn Féin TD Aengus Ó Snodaigh said this week.
Deputy Ó Snodaigh said the loss of 1,200 jobs at SR Technics is a "devastating blow" to the Dublin region and to the Irish economy and the Government have allowed a viable, strategic and world-class Irish industry to be destroyed by "multinational vultures".
As the workers' representative, Willie Quigley, pointed out when SR Technics saw that the Government was not prepared to back a plan that would save around 900 jobs, they knew they had a free run to end the Irish operation, the Sinn Féin TD pointed out.
"The intention of SRT bosses all along has been to ensure that aircraft maintenance and repair is ended in Dublin, eliminating any possible competition for their Zurich operation and ultimately the owners' planned facility in Dubai," Aengus Ó Snodaigh said.
He also slammed the Government for bailing out corrupt banks but failing to provide the funding to save this industry at less cost than redundancy payments and long-term welfare payments for the workers and their families.
TÁNAISTE BLAMED
Sinn Féin Workers Rights spokesperson Arthur Morgan TD laid the blame for the situation in SR Technics at the feet of Tánaiste and Minister for Enterprise, Trade and Employment Mary Coughlan.
"Minister Coughlan has deliberately ignored the plight of 1,200 workers at SR Technics. We are now seeing asset stripping at a world-class, cutting-edge plant because the Tánaiste refuses to get the state involved," he said.
Sinn Féin have said that they believe job retention is paramount to rescuing the economy and the 1,200 jobs in SR Technics are high-tech, highly-skilled jobs crucial to the Irish economy and workforce, with the plant having strategic importance to the Irish economy
Workers at SRT Technics have pleaded with the Government to intervene urgently and asked why the Government had not intervened to prevent the company from stripping its assets to prevent future competition before it finally leaves Dublin this summer. Dave Gleeson, a representative of the SR Technics workers, has called on the Government to examine the legality of the assets sale.