21 May 2009 Edition
New politics for real change
MOST analysts now agree that the Fianna Fáil/Green Party Government, which has driven the 26 Counties to the brink of economic ruin, is facing an unprecedented backlash in the forthcoming EU and Local Government elections.
It is the job of those actively seeking political change in Ireland to turn the huge anger at the Government into active support for a real political alternative.
Sinn Féin's all-Ireland EU election campaign was formally launched at the weekend. The party is fielding an impressive team of young, energetic candidates who offer a fresh alternative in Irish politics.
Sinn Féin MEPs Bairbre de Brún and Mary Lou McDonald have built up a huge wealth of experience over the last five years. Their record in fighting for the interests of their constituents in the Six Counties and in Dublin as well as in defending Ireland's national interests, speaks for itself.  It would be a significant advance for Irish republicanism and for progressive, effective politics to have them joined by more Sinn Féin MEPs  
Sinn Féin also launched its 26 County Local Government election campaign this week, which sees the party contesting more than 250 local government seats right across the state, seeking to build on the major gains it made in 2004.
Sinn Féin is realistically looking at changing the balance of power on councils across the 26 Counties where Fianna Fáil and Fine Gael have dominated since the foundation of the state.
The party is also fighting two by-election battles in Dublin Central and Dublin South, with two excellent candidates promoting a better, fairer way forward for Irish society.
Celebrity candidates aside, Fine Gael offers no real political alternative to the current, failed political orthodoxy that has resulted in so much hardship for so many people.
The elections offer a real opportunity to build a new alliance of the Left, which offers real hope for the future and realistic solutions to our country's problems.
One obstacle to be surmounted will be the mounting cynicism and disillusionment with politics in general. Fianna Fáil will seek to exploit that cynicism and resultant apathy to its own advantage. This cannot be allowed to happen.
Sinn Féin now offers people the best chance to change politics in Ireland for the better. If the party receives enough support and if the government gets early marching orders it will mark major progress towards a new politics for real change in Ireland.

An Phoblacht Magazine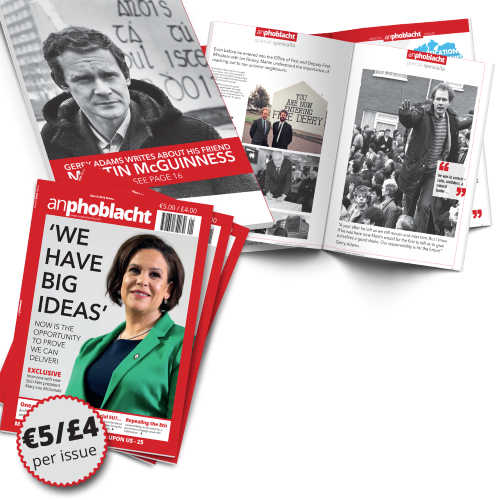 AN PHOBLACHT MAGAZINE:
The first edition of this new magazine will feature a 10 page special on the life and legacy of our leader Martin McGuinness to mark the first anniversary of his untimely passing.
It will include a personal reminiscence by Gerry Adams and contributions from the McGuinness family.
There will also be an exclusive interview with our new Uachtarán Mary Lou McDonald.
test