7 May 2009 Edition
Remembering the Past: Con Colbert and Seán Heuston

By Mícheál Mac Donncha

This year marks the centenary of the republican youth organisation, Fianna Éireann, which played a key role in the struggle for Irish freedom. The importance of that role is emphasised by the fact that two of its founders and leaders, Con Colbert and Seán Heuston, were executed on the same day for their part in the 1916 Easter Rising.
Con Colbert was born in 1888 in Athea in West Limerick. His family were republican and his uncle had taken part in the Fenian Rising of 1867. Con was educated at the Christian Brothers School, North Richmond Street, Dublin. He worked as a clerk in a city bakery but his time outside work was totally dedicated to the Irish republican cause.
When Constance Markievicz founded Fianna Éireann in Dublin in August 1909 Con Colbert was among the first to join. He quickly won widespread respect and rose to a position of leadership. He was a founder member of the Irish Volunteers in November 1913 and was on the National Executive the following year, opposing John Redmond's Irish Parliamentary Party attempt to take over the organisation.
On request from Pádraig Pearse, Con instructed the boys of Scoil Éanna in drill but refused to accept payment. Admired and trusted by the leaders of the forthcoming Rising, Con was posted as Pearse's bodyguard in the days immediately before Easter 1916. His rank was captain, F Company, Fourth Battalion of the Dublin Brigade, based in Inchicore.

FIERCE FIRE-FIGHT
On Easter Monday 1916, with fewer than 20 men, Colbert occupied Watkin's Brewery. They moved to Jameson's Distillery, Marrowbone Lane on Tuesday and for the rest of the week were engaged in a fierce fire-fight with British troops. They remained in place until Sunday when they were ordered to surrender by Thomas Mac Donagh. Colbert was visibly distraught at having to lay down arms.
Seán Heuston was Fianna Éireann Director of Training. Born in Dublin in 1891, he also attended North Richmond Street CBS. At 16 he worked as a clerk for the Great Southern and Western Railway. He was based in Limerick where he organised the Fianna. They had their own hall built on land given by veteran Fenian John Daly, whose nephew Edward Daly, like Heuston and Colbert, was executed for his part in the Rising.
In 1913 Seán was transferred to Kingsbridge (now Heuston) railway station in Dublin and joined the Volunteers the following spring. He was captain of D Company, First Battallion, based in the north of the city between the Phoenix Park and O'Connell Street. Heuston also instructed the boys of Scoil Éanna in drill.

SURROUNDED
Heuston commanded the small band of Volunteers occupying the Mendicity Institution on Usher's Quay from Easter Monday to Wednesday. They were surrounded by British forces and after resisting ceaseless rifle and machine gun fire for three days they were forced to surrender. As they emerged under a white flag Volunteer Peter Wilson of Swords was shot dead by a British sniper.
Con Colbert and Seán Heuston were court-martialled in Richmond Barracks and executed in Kilmainham Jail. Shortly after the executions a Requiem Mass was said in Dominic St. church for Seán Heuston and the press report showed how even at that early stage popular opinion had swung to the side of the republicans:
"On his relatives making their appearance, they were loudly cheered by a large crowd who had assembled outside the church. Members of the throng afterwards sang verses of A Nation Once Again, Who Fears to Speak of '98' and God save Ireland. Members of the crowd were observed to be wearing republican badges with mourning tokens."
Con Colbert and Seán Heuston were executed in Kilmainham Jail on 8 May 1916, 93 years ago this week.
Con Colbert and Seán Heuston
 
An Phoblacht Magazine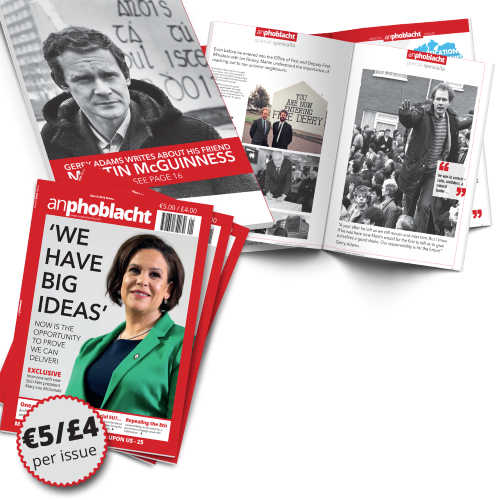 AN PHOBLACHT MAGAZINE:
The first edition of this new magazine will feature a 10 page special on the life and legacy of our leader Martin McGuinness to mark the first anniversary of his untimely passing.
It will include a personal reminiscence by Gerry Adams and contributions from the McGuinness family.
There will also be an exclusive interview with our new Uachtarán Mary Lou McDonald.
test