7 May 2009 Edition
Kelly hails GAA Belfast strategy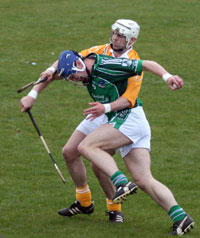 SPEAKING at the launch of the GAA's Belfast Strategy, Ardú Bhéal Feirste, last week, Sinn Féin MLA Gerry Kelly paid tribute to the GAA for being at the heart of many communities over the 125 years of its existence.
The north Belfast MLA and junior minister said the GAA brings vision and energy to those that it reaches, never more so than with the ambitious proposal for a new 40,000-capacity stadium.
"Key to that energy and vision of the GAA are developments that benefit the communities that it situates itself in. The launch of the Belfast strategy, Ardú Bhéal Feirste, its commitment to local clubs, and its proposals for  a new stadium is part and parcel of that ethos.
"This is a visionary plan that when developed will transform Casement Park and act as a catalyst for the further development of the GAA across Belfast and Ulster."
He said that a state-of-the-art 40,000 stadium is required to meet the strategic needs of the GAA in Ulster.
"Recently, Martin McGuinness and Peter Robinson reaffirmed their commitment to meeting the strategic stadium needs of the GAA. These needs can be met through the plans for a new Casement Park. We are determined to see this project through to completion.
"Under the leadership of both counties, and with the support of the Ulster Council, I believe that the GAA will continue to grow and develop across Belfast. I hope that we can play a part in facilitating that development and I look to the future with a renewed sense of optimism."
An Phoblacht Magazine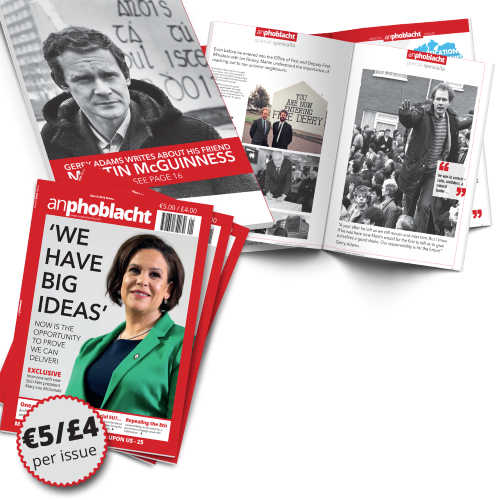 AN PHOBLACHT MAGAZINE:
The first edition of this new magazine will feature a 10 page special on the life and legacy of our leader Martin McGuinness to mark the first anniversary of his untimely passing.
It will include a personal reminiscence by Gerry Adams and contributions from the McGuinness family.
There will also be an exclusive interview with our new Uachtarán Mary Lou McDonald.
test