7 May 2009 Edition
Oidhreacht na stailceoirí ocrais
Cuimhní na seachtaine seo ná cuimhní 1981, bás Bobby Sands ar an 5 Bealtaine, feachtas fada i rith an tsamhraidh, brón, bród, sluaite ar na sráideanna, Thatcher i gcumhacht, stailceoir i ndiaidh stailceoir, deichniúr imithe ar slí an ocrais agus slí na fírinne.
Bhí a fhios ag Bobby agus a chomrádaithe cén bealach a bhí rompu.  Mar a dúirt Bobby gach rud a bhí caillte sna H-Blocanna bhí sé caillte don Phoblacht. Ach bua bhí acu sa deireadh.

An Phoblacht Magazine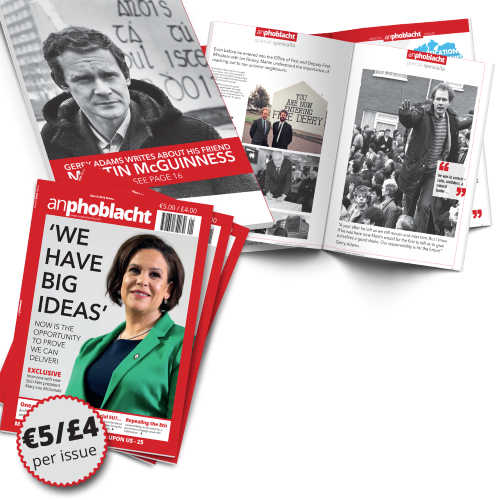 AN PHOBLACHT MAGAZINE:
The first edition of this new magazine will feature a 10 page special on the life and legacy of our leader Martin McGuinness to mark the first anniversary of his untimely passing.
It will include a personal reminiscence by Gerry Adams and contributions from the McGuinness family.
There will also be an exclusive interview with our new Uachtarán Mary Lou McDonald.
test