7 May 2009 Edition
The Mitchel McLaughlin Column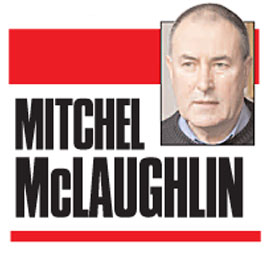 Talking about a national conversation
ALL nationalist political parties throughout the island have recognised that partition means that the Irish nation cannot reach its full potential, either economically or in terms of influencing international opinion on a variety of crucial matters. I believe that growing numbers from the unionist tradition, particularly in the business sector, believe likewise.
There is a strong desire among the majority of Irish people for national reunification and reconciliation. Sinn Féin will continue its work to build on that desire and to persuade political unionism that it is in their interests also.
Fianna Fáil, Fine Gael, Labour and the SDLP have policy positions which declare their commitment to a united Ireland. It remains to be seen if they are actually going to do something practical to make it happen. That is why it is time for a national conversation on the way forward.
If the Irish Government is serious about a united Ireland then it should commit to vigorously promote and pursue that objective and oppose those West Brit elements in some parties and sections of the Irish media who propagate the notion that a united Ireland is incapable of running our own affairs to the benefit of all the people of this island.
Sinn Féin is of the firm belief that, contrary to what some would have us believe, the best way out of our present economic woes is through a co-ordinated and all-Ireland basis.
We will continue to press and encourage the Irish Government to produce a strategy mapping out the necessary measures to deliver that objective and to promote as government policy the benefits that would accrue to all the people of Ireland in a sovereign, independent, unitary state.
The pursuit of this objective in a peaceful and democratic manner requires strategies to educate, persuade and reassure. It is time for an open and frank discussion.
The Irish Government has a duty to promote the ideal of Easter 1916 in every forum possible, both national and international. The vision of a national representative democracy and the process of national reconciliation require that the constitutional options be fully ventilated.
 As part of this process, Sinn Féin seek to persuade the Irish Government and the British Government to hold a referendum on the issue of a united Ireland. This would give those who support Irish self-determination the opportunity to sell the benefits of Irish unity to those who belong to the unionist tradition and others that need to be convinced. Such a process would also present unionists with a democratic opportunity to persuade republicans of what they believe are the benefits of continued British rule in the North.
This debate would create the perfect forum for republicans and unionists to talk to each other on the basis of equality about the positive aspects of our respective aspirations. Such a dialogue, conducted between equals, is also the only peaceful and democratic way to leave the conflict and division behind us and to resolve the remaining constitutional issues on the island of Ireland.

An Phoblacht Magazine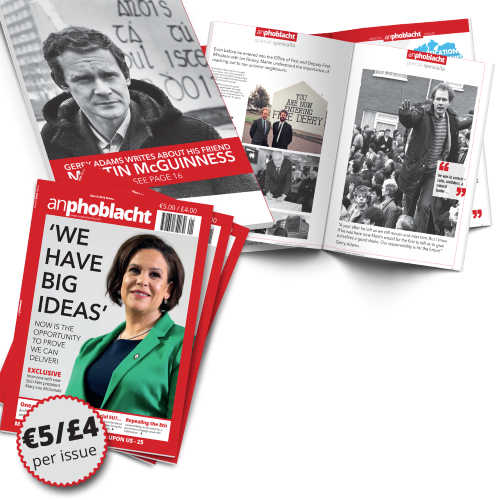 AN PHOBLACHT MAGAZINE:
The first edition of this new magazine will feature a 10 page special on the life and legacy of our leader Martin McGuinness to mark the first anniversary of his untimely passing.
It will include a personal reminiscence by Gerry Adams and contributions from the McGuinness family.
There will also be an exclusive interview with our new Uachtarán Mary Lou McDonald.
test